26 November 2009 Edition
Campaign welcomes ruling against Basque extradition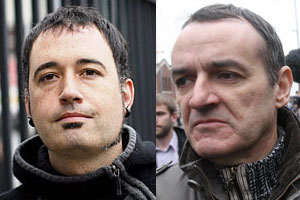 BELFAST Judge Tom Burgess ruled on Wednesday 18 November that the Spanish authorities' extradition warrant against Basque activist Arturo Beñat Villanueva was "invalid."
The judge rejected the warrant, which claimed that Villanueva was a "member of an illegal terrorist organisation" (Jarrai) from 1994 to 2000 on the grounds that it did not include any particularities or details of specific offences committed.
The judge further ruled that there was no specific evidence cited in the warrant that proved Villanueva's membership of the organisation.
However, on Friday 20 November the prosecution said it would appeal the ruling.
Welcoming the judge's ruling, 'Don't Extradite the Basques Campaign' spokesperson Kevin Morrison said:
"The judge's ruling demonstrates the validity in the message that the 'Don't Extradite the Basques Campaign' has been putting forward – that the extradition warrant against Beñat was politically motivated.
"We urge the British Government to acknowledge, after this ruling, that the cases against both Basque men being sought by the Spanish Government are legally flawed and politically motivated.
"The extradition request against Iñaki de Juana must also now be rejected.
"The Spanish Government should drop its plans to appeal the ruling against extradition in Beñat's case."
RETROSPECTIVE
While Jarrai is a solely political organisation, it was declared illegal by the Spanish authorities in 2005 and categorised as a "terrorist" organisation by Spain's Supreme Court in 2007.
During the period of Villanueva's alleged membership of Jarrai, the organisation was legal. The non-retrospectivity legal principle was clearly being breached by the terms of the warrant for his extradition.
Sinn Féin MEP Bairbre de Brún also welcomed the judge's ruling against the extradition.
"These two men are essentially being pursued solely for their political ideas and the extradition attempts on behalf of the Spanish authorities, in both cases, now need to be wholly rejected.
"It further exposes the ongoing repression within the Basque Country where social, youth, media and political groups alike are made illegal and repressed with many members being imprisoned.
"It is Sinn Féin's belief that the Spanish Government should desist from such actions and focus upon exploring the unconditional declaration of support for a peaceful, political and democratic process by the Basque Abertzale Left grouping this week."
CRIMINALISATION STRATEGY
The 'Don't Extradite the Basques Campaign' has said it will continue to oppose the extradition process against de Juana and Villanueva.
 "We urge the Spanish Government to rethink its criminalisation strategy against the pro-independence movement, particularly at this moment in time when significant initiatives towards reviving the peace process have been taken this week by the Basque pro-independence movement," Morrison said.
The campaign held a successful 'Songs of Struggle' fundraiser night in Belfast on Saturday 21 November in the Cultúrlann in west Belfast, which 100 people attended to show their support.