26 November 2009 Edition
Equality agenda a Sinn Féin priority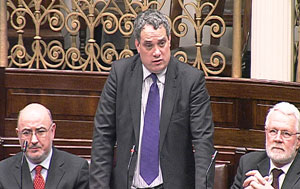 THE Equality and Rights Alliance was told on Tuesday of this week by Aengus Ó Snodaigh TD that Sinn Féin's approach to equality can be seen in its Pre-Budget Submission which could yield even greater savings than the Government targets without a single cut to social welfare or public service jobs.
"The equality agenda is a Sinn Féin priority on a par with the unity agenda," the Dublin South Central TD said.
"Over the past ten years, we have evolved extensive and detailed commitments to rights-based governance, as can be seen from all our policies, our election manifestos, our track records in the institutions and in our community engagements.
"Most recently, this has been given expression in our Pre-Budget Submission. This outlines a viable alternative road to economic recovery yielding even greater savings than the Coalition Government targets without a single cut to social welfare or public service jobs. And this is done by taking an approach premised on the intrinsic social value of increased economic equality and the protection of fundamental economic and social rights."
GOOD FRIDAY AGREEMENT
He explained that Sinn Féin's approach to strengthening equality and human rights in Ireland, and in the 26-County state in particular, is primarily guided by the treaty obligations imposed on the Irish Government by the Good Friday Agreement.
"Three of these have particular relevance to this jurisdiction. First, the equivalence obligations that Colm Ó Cinnéide has analysed so persuasively in his 2005 opinion commissioned by the Equality Authority. Second, the provision to conclude an All-Ireland Charter of Rights. And third, the related commitment to a Bill of Rights for the North – which holds the potential to create a model superior to the 1937 Constitutional provisions, and in doing so exert upwards harmonisation pressure on the 1937 Constitution in the context of the equivalence obligations and the All-Ireland Charter."
OPPORTUNITY
Sinn Féin is not content to stop at the Good Friday Agreement provisions, the republican TD emphasised.
"We also have a long track record of commitment to equality and human rights-proofing of all law and policy, including budgets, to the extension of grounds on which discrimination is prohibited by law, and to ensuring that Ireland keeps pace with the evolving international human rights treaty architecture.
Commending the Equality and Rights Alliance's approach to a host of issues, Aengus Ó Snodaigh concluded:
"In crisis there is opportunity. We need to stop fighting rearguard actions in defence of what was already achieved and instead go on the offensive to realise maximum outcomes for equality and human rights for all people living in Ireland. Sinn Féin stands ready to join with you in doing so."