26 November 2009 Edition
Climate change summit must agree legally - binding treaty, says de Brún MEP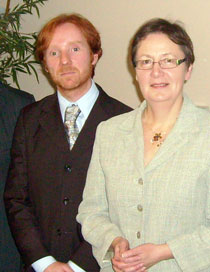 THE global agreement reached at next month's United Nations climate change summit in Copenhagen must set legally-binding emissions reduction targets based on up-to-date climate science and are fair to developing countries if the world is to prevent catastrophic climate change, according to Sinn Féin MEP Bairbre de Brún
The MEP made her declaration at a public meeting organised by South Belfast Sinn Féin, 'The Road to Copenhagen', on Friday 20 November.
Declan Allison from Friends of the Earth addressed the meeting about what action could be taken locally to stop climate change.
Bairbre de Brún said:
"Despite leading politicians who represent important industrialised states trying over recent weeks to lower expectations as to what can be achieved at the Copenhagen Summit, environmentalists continue to demand that we need a legally binding international climate treaty to replace the Kyoto Protocol, and we need it now."
The Sinn Féin MEP will be part of the EU Parliament's official delegation to the Copenhagen Summit set to take place from 7 to 18 December. A 'political framework' on emissions reduction is being counterposed by some to a legally binding treaty that sets firm targets as all that can be achieved at the summit.

WHAT'S AT STAKE
"Now is the time we need to get in place a global agreement to supercede Kyoto that will outline who will take what steps," de Brún said.
The Kyoto Protocol, which was signed in 1997 and came into effect in 2005, commits signatories to an overall reduction target of 5% on baseline 1990 levels by 2012, when the agreement expires.
The MEP and Declan Allison outlined some of the science underpinning the negotiations.

The planet has warmed by 0.8C since industrialisation – and, while this may seem like a minuscule change, it is already destroying the balance of many of the Earth's ecosystems and causing major and deadly changes in weather patterns.
Environmental scientists agree that we must limit warming to no more than 2C on pre-industrial levels in order to avoid catastrophic climate change.
 If carbon emissions continue at their current rates, climate scientists estimate the Earth may warm by 4C by 2060 and by up to 7 or 8C by 2100. If this happens most ecosystems on Earth would collapse. Most of the world's coastal cities would be underwater and fresh water sources for billions of people would disappear.
SCIENCE-BASED TARGETS
"In order to limit warming to no more than 2C, there must be a reduction of at least 40% on 1990 levels by 2020 by industrialised countries," de Brún told the south Belfast meeting.
"This must be followed up by an 80% to 95% cut in emissions by industrialised countries by 2050.
"However, these targets are based on the findings of the UN's Intergovernmental Panel on Climate Change (IPCC) in 2007, which was based on research completed four years ago.
"Already since the IPCC's report, a large body of scientific research has shown that climate change is occurring at a much faster rate than previously believed, that the challenge facing us is even greater than we thought and that the later reductions are made the less impact they'll have."
She said this means there must also be a mechanism within a global climate treaty for strengthening targets to respond to the most up-to-date climate science.
LEADERSHIP
"But, at this stage, the industrialised states are not putting forward even the basic minimum targets that the IPCC said are necessary," de Brún said.
The EU says it will reduce emissions by 20% by 2020 (30% if a strong global agreement is reached) and by 50% to 80% by 2050. The US pledges even less under its existing legislation – just 17% to 20% cuts by 2020.
De Brún said the US "has been conspicuously absent from previous international climate agreements and this, in turn, has had an effect on what emerging economies like China and India are willing to promise".
She said that the fact that there would not be domestic legislation in place in the US before the summit was a major obstacle to reaching an international agreement.
On Monday 22 November, a US Government official said the United States would announce provisional targets before the Copenhagen summit but has still not said whether President Barack Obama will even attend.
CLIMATE JUSTICE
A major rift has developed between the industrialised countries and the global South in the climate negotiations, prompting African countries to lead a walk-out of the latest round of precursor talks in Barcelona in early November, the MEP said.
De Brún said that, in addition to providing leadership on strong, binding targets, the EU must lead the way in putting a figure on the financial and technical aid it would provide to the developing world.
"The developing world has done the least to cause climate change but is set to pay the most," she told the Sinn Féin-hosted meeting.
"A major issue confronting us at the Copenhagen Summit will be the question of providing aid – financial and technical – to enable developing countries to put their industries and economies on a sustainable path and to adapt to the impact of climate change.
"The human cost of climate change is already being felt."
In May, Kofi Annan's Global Humanitarian Forum warned that climate change is already causing 300,000 deaths a year in the global South and is "seriously affecting" 325 million people. Almost two-thirds of the world's population is now vulnerable to climate change, while 500 million are at "extreme risk".
Food and water security is increasingly threatened. "Hunger will be one of the major impacts of climate change," Oxfam said in a July report. "It may be the defining human tragedy of this century."
Bairbre de Brún said:
"It has been estimated that the developing world will need €120 billion per year by 2020 to cope with these problems. In October, the EU's climate change committee put forward that the EU should provide €30 billion of this. It was our belief that putting a figure on the EU's commitment, and a strong one at that, would be crucial to the EU providing leadership in the international negotiations.
"However, the EU council failed to pass this proposal, so it's something we are continuing to work on."
TAKING ACTION
Declan Allison from Friends of the Earth told the audience that while individual actions and lifestyle choices are important in combating climate change, "the most important and valuable contribution individuals can make is to get politically active on this issue".
He said that environmentalists are campaigning for a climate change bill to be passed through the North's Assembly that would legislate for 40% cuts by 2020 and at least 80% cuts by 2050.
Bairbre De Brún called on environmentalists, politicians from all parties and the community to work together to formulate a robust Climate Change Bill for the Assembly.
Both speakers also urged all those concerned about climate change to support the global Stop Climate Chaos campaign and join 'The Wave' demonstrations in Ireland as part of the global day of action to coincide with the start of the Copenhagen summit on Saturday 5 December (wear blue).