26 November 2009 Edition
Maskey and Ó Donnghaile to run in South and East Belfast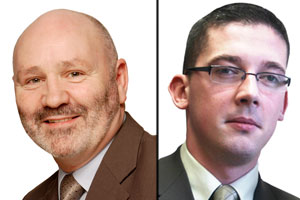 Sinn Féin activists gathered in South Belfast on Tuesday night where they selected Alex Maskey as the party's candidate for South Belfast and Niall Ó Donnghaile for East Belfast in the forthcoming Westminster election.
Both candidates were selected unopposed.
Speaking after the convention, Alex Maskey MLA said,
"Firstly I want to thank friends and comrades, activists and supporters, who came out to select me as their candidate for the next Westminster election. I will be fighting this election on an abstentionist ticket.
"It is a great honour and privilege for me to once again be selected by the party in South Belfast to stand as the Sinn Féin candidate, and I thank the party for entrusting that task to me.
"The next election is an important one, one in which I will continue to campaign on the important issues that effect people's daily lives within this constituency.
"This election will present people with a very real opportunity, an opportunity to elect a strong and competent republican voice in South Belfast.
"I look forward to the campaign ahead and have every confidence in the strength of our party activists and supporters; I also commend them for the ongoing work that they have been engaged in, with me, on behalf of citizens in this constituency."
Niall Ó Donnghaile added,
"I would also like to thank our activists who have given me the honour of again representing Sinn Féin."
"The forthcoming election presents republicans with the opportunity of building on the success of the June European elections when, historically, Sinn Féin emerged as the largest party in the Six Counties."