26 November 2009 Edition
Workers stage widespread resistance to government attacks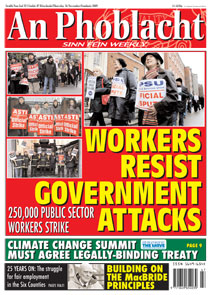 250,000 public sector workers strike
A QUARTER OF A MILLION public sector workers in the 26 Counties staged a one-day strike on Tuesday. Afterwards, union leaders warned Taoiseach Brian Cowen that another all-day stoppage will follow on Thursday 3 December if there is no serious engagement about alternatives to cutting €1.3 billion in public expenditure other than through slash and burn policies which attack workers' wages and conditions.
Union members in flood-affected areas deferred their action and emergency cover was in place in essential health services.
Council staff, teachers and nurses placed pickets on workplaces, including the Dáil, where Sinn Féin TDs and support staff were the only political activists to demonstrate solidarity with public sector workers and not cross the picket lines. Sinn Féin members in Leinster House will give up the day's pay as part of their action.
Speaking at the Leinster House picket line, Sinn Féin Dáil leader Caoimhghín Ó Caoláin said:
"The Sinn Féin TDs are today standing in solidarity with the day of action called by the trade union movement and we are not passing the picket at Leinster House.
"Workers in the public service have been left with no choice but to resort to industrial action given the intransigence of the Fianna Fáil/Green government in its determination to impose across-the-board pay cuts, on top of the pay cuts and redundancies already imposed. This is a key element in the fundamentally flawed Government approach to the forthcoming Budget which will also see cuts to social welfare and to vital services such as health and education.
"We reject efforts to demonise public service workers and to create false divisions between those in the public and private sectors. These workers come from the same families, the same households, the same communities. Many are on low or modest incomes and are struggling to meet mortgage payments and the cost of rearing young families.
"Two-thirds of workers in the public service are paid below €50,000 a year and four out of ten are paid less than €40,000 a year. Contrast this with the 1,447 people, 0.06% of all earners who received approximately €3.459 billion between them in 2008. More than 25% of the top 400 earners paid tax at a rate of less than 20%.
"Trade unionists in the public and private sectors are protesting for a better, fairer way to address the economic crisis. Workers are already making sacrifices for the common good and they are prepared to do more but they cannot be expected to bear the whole burden while the elite who caused the crisis are let off the hook again.
"In our Pre-Budget Submission Sinn Féin has shown that an alternative road to recovery is possible and we look forward to working with trade unionists in the coming weeks and months in the continuing campaign for a fair and viable route out of the economic crisis."
The ICTU's public services committee has announced that a second public service strike will take place on Thursday, 3 December if renewed talks between the Government and trade unions fail to produce an alternative to compulsory redundancies and pay cuts. Committee Chair Peter McLoone said that workers had "the resolve and the strength to resist the Government if it pursues an unfair and counter-productive course of further pay cuts".
Talks resumed on Wednesday morning.
• Sinn Féin TDs and staff refused to cross picket line at the Dáil