5 November 2009 Edition
Concerns remain over kidnapped Irish priest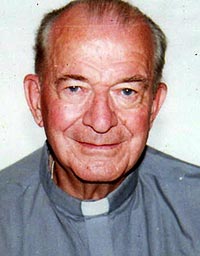 CONCERN remains about Irish priest Fr Michael Sinnott despite the release of a video by his kidnappers in the Philippines in which a ransom was demanded. The footage confirmed earlier reports from Sinn Féin's Gerry Kelly that Sinnott was still alive.
Kelly revealed last week said that he had been in touch with contacts in the Moro Islamic Liberation Front (Milf). There had been some initial speculation that the MILF may have been involved in the kidnapping but this was immediately dispelled. MILF activists are assisting in efforts to find and rescue Fr Sinnott.
The Sinn Féin junior Minister in the North's Assembly established contacts with MILF earlier this year during efforts to build a peace process in the Phillipines. Kelly met government representatives and held talks with the rebels in their camp in Mindanao.
Sinnott was abducted in Pagadian City three weeks ago and fears were raised over his health due to a heart condition. Gerry Kelly revealed last week that he had been given medication from the kidnappers for the illness.
"The fact that there is word from the kidnappers is actually being looked upon as a good thing and there has been word from the kidnappers in terms of a ransom," he said.
"So this is all good news that he is in good health and they believe they know, at least, the area where he is", Kelly said.
In his video message Fr. Sinnott said: "I am told that the one who is the leader of the group who kidnapped me is Abu Jandal. He is asking for a ransom of two million US dollars." The ransom demand has been firmly rejected.
Speaking to An Phoblacht on Wednesday Gerry Kelly said he remained hopeful that Fr Sinnott could be safely returned.