5 November 2009 Edition
Loyalist charged with sex offences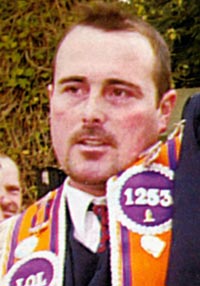 PROMINENT loyalist and Orangeman Mark Harbinson has been refused bail after being charged with raping a 13-year-old girl and being in possession of indecent photographs of a child. A number of other sex offences involving children are under investigation.
As a loyalist, Harbinson has been a key figure in the ongoing campaign of sectarian intimidation in the County Antrim village of Stoneyford. At the height of the campaign, the homes of Catholic families were repeatedly targeted by loyalist mobs.
During one incident, members of the mob wore Orange Volunteers T-shirts. The Orange Volunteers are a loyalist paramilitary group responsible for a number of sectarian killings, bombings and other attacks in south Antrim.
Harbinson was also questioned after British crown forces files containing the names and personal details of thousands of nationalists and republicans were discovered in Stoneyford Orange Hall in 1999. Harbinson was a key holder at the hall at the time.
As an Orangeman, Harbinson played a prominent role in protests against the Parades Commission's decision to reroute the Drumcree parade away from the nationalist Garvaghy Road. Harbinson was convicted of rioting and given a 12-month suspended sentence.
The 42-year-old loyalist appeared in Lisburn Magistrates' Court last week to face charges in connection with a series of attacks on a 13-year-old girl.
The court was told that he met his alleged victim through his role as a leading member of a loyalist flute band. The band meets regularly at Stoneyford Orange Hall. Harbinson also faces two other serious charges against minors.