5 November 2009 Edition
NAMA - Daylight robbery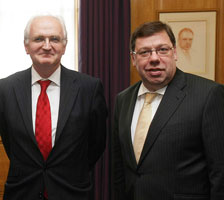 THIS WEEK,  Fianna Fáil and the Green Party are passing legislation which hands over €54 billion to banks. The National Assets Management Agency Bill (NAMA) is a disgusting example of the contempt with which this government holds democracy and the people of this state.
Sinn Féin has opposed NAMA since its inception and has repeatedly called for a referendum on it. We have also sought to amend it to enshrine protective measures for taxpayers and make it a bail-out for mortgage holders instead. The Government has watered down amendments and the Bill still allows NAMA to pay the banks' long-term economic value'pie in the sky' figures for bad loans. It also allows the Minister for Finance, Brian Lenihan, absolute power to determine how NAMA treats the banks and developers.

We are now facing a situation where the Government is telling us it must reduce the public spending deficit by €4 billion this December while at the same time it is arranging borrowing of over €54 billion to buy toxic loans from irresponsible banks.
It has set up a 'Special Purpose Vehicle' to keep this borrowing off the Government balance sheet in an attempt to make it look like the country is borrowing less than it actually is. In truth, our public deficit would be easy to manage and we could even create a stimulus, as Sinn Féin's pre-Budget submission will show, if the NAMA plan was dropped.
The real damage of NAMA will not be known until it is too late. Already, shreds of information are being revealed which show the involvement of private developers and investors in its operation.
Our public deficit this year will be in the region of €22 billion but that is a figure being used for the everyday costs of running the state. NAMA will, in one stroke, indebt the country by €54 billion, and that will be spent on, quite simply, nothing. A tiny hope is that property prices might one day rocket back to the extremes they reached in the bubble – and that is the 'best-case scenario'. The worst case scenario is that the Government has just given banks €54 billion of taxpayers' money and we will be paying it off in the form of huge taxes and woeful public services for generations.
Either way, Fianna Fáil and the Green Party will not care because they will be gone from office.
After the Bill is passed this week, they can sit back and rest easy in the knowledge that, once more, they have ripped off the Irish people and gotten away with it. The only way to stop them getting away with it is to demand a general election before they have an opportunity to implement the NAMA plan.
Sinn Féin will do everything in its power to oppose this Bill in the Dáil but, ultimately, the Irish people must take power in their own hands if they want to see the NAMA nightmare end.