5 November 2009 Edition
Golden circle free for all continues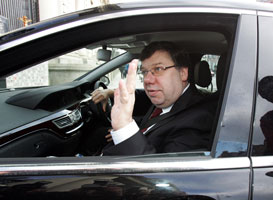 BY ROBBIE SMYTH

JUST over 1.9 million people are at work this week in the 26 Counties, many working for low pay, putting in long days, often with anti-social hours and weekend work, all with no overtime payments. More than half of the workers in the private sector have no pension, and the overwhelming majority don't get bonuses, don't have perks or luxury company cars and there were no golden parachutes for the 183,422 people who lost jobs and had to sign on in the 12 months to the end of September 2009. Two thirds of employees in the 26 Counties earn less than €42,000 annually, while according to the most recent OECD data, Irish workers, were in 2006, the second most productive in the world, Norway coming in first.
But for an elite in government, the most senior management in the public sector and the corporate boardrooms of the private sector a different reality prevails, and it isn't one of the free market. It is one of a free for all.

In Ireland this Golden Circle write their own rules, whether it is holding onto political power or massive wealth and privilege earned off the efforts of the real working Ireland.
It is hard to fathom the scale of this privilege whether it was Mary Harney's 2004 $400 hair dressing bill in the USA, or her use of a state helicopter to travel for the opening of an off licence in Leitrim in 2001 or her 2008 visit to the Super Bowl, travel expenses courtesy of the Irish tax payer. It points to a lavish lifestyle subsidised weekly by the tax payer.
A culture of excess pervades the Irish political elite. Brian Cowen as finance minister had the luxury of a state car and free driver, but on becoming Taoiseach, a new car was purchased for him. But Cowen felt he couldn't be seen in a brand new €150,000 Mercedes during the recession. It seems that it is the short term optics of the situation that count most. This year Cowen is nestling comfortably in the new S-Class Mercedes, its six month political decontamination period over!
With the government spending slashed in two budgets in 12 months and a third looming, it is incredible to see just what Fianna Fáil and the Greens can still find the money to pay for.
In February of this year, it was revealed that, approximately 100 Health Service Executive managers shared in late 2008 €1.4 million in bonus payments in respect of their job performance in 2007. In recent weeks the HSE found time, while pondering a €1.2 billion cut in public sector spending for next year, to award chief executive Brendan Drumm a €70,000 bonus for his work in 2007.
Drumm has refused to give up his bonus. He is not alone in saying no to even a glimmer of acknowledgment that the government is running out of money. Only 19 of 148 judges have made voluntary contributions in lieu of the pension levy imposed on all other public servants.
But it is not just the HSE who are facing cuts, funding public sector education from first to third level has been cut back this year, with special needs teachers made redundant and class sizes getting bigger while 400 professors in Irish Universities received a 5.5% wage increase, with college presidents receiving a 19% pay rise.
Not that university heads were badly paid before their 19% hike. It was revealed in March that the top 50 earners in Irish universities earned an average of €200,00 each in 2008, with UCD's vice president for research Des Fitzgerald taking home €409,000.
Then there are those profiting from the recession. One example is the Global Irish Economic Forum, a recent much publicised government think tank fronted by David McWilliams that brought together 150 high profile Irish business and public figures to discuss strategies for tackling the recession.
The event cost €309,515, with McWilliams pocketing €10,000 for his weekend's work. 94 of the delegates got to watch the all Ireland football final, with a lunch reception, and all the guests got a CD of Seamus Heaney's poetry.
The Assembly executive in the North has formed a Cross Sector Advisory Forum. It has met three times, with some sub groups meeting also. All those attending receive no money, no expenses and the forum meets during the working week. Net cost to the Assembly is so far the tea, coffee and biscuits on the day
Others profit much more from their cosy relationships with Government. In September National Toll Roads chairperson Tom Roche and his family received €30 million in dividends partially driven by the sell back to the government of the gold mine contract for tolls at the Westlink on the M50.
The lavish luxuries and travel perks of Irish ministers is not the only spoil of political office. They also take home massive salaries. Brian Cowen earns €232,572, with the pension levy reduction. Gordon Brown takes home €221,220, while German Chancellor Angela Merkel earns €189,996 annually.
But the Dáil bonanza doesn't end there. Yes the TDs are paid more than most of their European counterparts, but 21 of them get to be committee chairpersons and earn an extra €20,000 with a similar amount of vice chairs getting €10,000 annually, not to mention €6,000 for being a convenor!
With these perks and average expenses of €67,000 annually politicians in Ireland don't need to earn bonuses. However bankers and businessmen do. But even though Ireland is suffering second only to Iceland the worst impact of the global economic downturn, it isn't so bleak a vista for Irish bankers.
Take the case of AIB's chief executive Eugene Sheehy, who still has a job despite the bank he runs being technically insolvent, save for the bailout of €1.5 billion from the tax payer. Sheehy had a 45% wage cut in 2008 and earned only €1.15 million. The wage cuts of Bank of Ireland's top four executives fell by only 37% and they share €3.9 million.
Compare this to the chief executive of Credit Suisse who had an 87% wage cut or Barclay's boss John Varley. His salary package fell by 74% in 2008. But they all still earned more than a million euro in the year of dire recession and banking collapse. It seems that no matter how bad things are in the Irish economy some people are still made millionaires at year end, and some of these people will still tell you that a minimum wage of €8.65 an hour is too high.
Time for practical solutions 
THE country is gearing up for one of the harshest and crippling Budgets that we have seen in a long time. This summer has produced the 'Bord Snip Report', the Commission on Taxation Report and the NAMA legislation has been before the Dáil. All in all, Government strategy looks likely to try and cut and tax its way out of economic recession. But where is the planning, the initiatives to get Ireland back to work, to stop the haemorrhaging of jobs and indigenous enterprises from rural areas, to promote rural regeneration and to revitalise the indigenous agri-food sector?
At the start of the summer, the Oireachtas Committee on Enterprise, Trade and Employment commissioned a report entitled What is required to expand employment in the agri-food sector? and Arthur Morgan has conducted meetings with groups including the IFA, Teagasc, IASC and small agricultural producers as well as conducting an industry survey. It is this consultation with industry
and 'bottom-up' interaction that is needed to stimulate the economy, business and create employment; not NAMA.
It is important to recognise the importance and value of the agri-food sector to the Irish economy. Not only does it support local agricultural communities to develop an environment that is supportive of enterprise development but in 2008, the agri-food sector accounted for 10% of the total merchandise exports in Ireland at nearly €8.6 billion in product. 
It is time for practical solutions to the crippling unemployment that faces this country. It is time Ireland embraced the natural resources bestowed upon us to realise our competitive advantages internationally.