5 November 2009 Edition
Another View by Eoin Ó Broin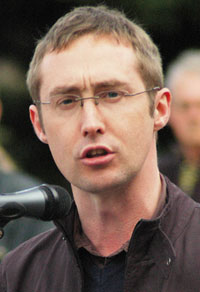 Labour TD attacks unions
WHAT is Labour Party TD Seán Sherlock up to? Last weekend's Sunday Tribune claimed that the Cork East TD had "launched a scathing attack on the unions' plan for days of protest and strike action".
A former SIPTU employee, Sherlock told the Tribune that he is "vehemently opposed" to union plans for protest action, arguing that it would be "an affront to anybody who does not have a job and is struggling".
Sherlock also complained bitterly of the close relationship between the trade union movement and the Government built up during the years of social partnership. He wondered whether the Labour Party should have a "qualitative assessment" of its relationship with the unions.
The Labour TD also criticised the union's €1.3m campaign fund. He argued that rather than using this money to campaign for better Government policy the unions should use it to help recently-unemployed members.
Is Seán Sherlock arguing that the trade unions shouldn't be opposing Government policy? Is he arguing that the unions should not be spending their own money campaigning for improvements in Government policy? Has he even read the campaign literature of the trade unions?

THE Irish Congress of Trade Unions has launched a campaign called Get Up Stand Up – There is Still a Better Way.
The campaign is based on "principles of equity and fairness" and is focused on "the great majority of Irish society", not "discrete sections of the workforce".
Full details of the campaign can be accessed at www.getupstandup.ie. As the core of their alternative economic recovery plan, ICTU are calling for:–


The period for addressing the fiscal deficit to be extended from 2013 to 2017 to soften the social impact of the adjustment incomes;
The protection of frontline services and incomes;
The introduction of a National Recovery Bond to finance infrastructure projects;
Protection for families facing repossession due to mortgage arrears;
Tax reform based on principles of fairness and equity.

DESPITE repeated calls for a serious negotiation on these issues, the Government has made it clear that its policy preference is for the kind of slash and burn approach outlined in the McCarthy Report.
So, with no other option available to it, ICTU has decided to launch a major campaign, the aim of which it to force the Government to abandon its current policy direction.
Now, is Seán Sherlock TD arguing against the ICTU proposals? If so, which ones and why?
Is he suggesting that the trade union movement should sit on their hands and do nothing in the face of Government assaults on working people and those living in poverty?
Is he really arguing that trade unions should not campaign publicly for a change in Government policy?
ICTU represents 850,000 members. That's three times the Labour vote in the 2007 general election. Their campaign is a good one and should be supported. The first state-wide day of protest is Friday, 6 November.
If you believe there is a better, fairer way, be there. If you agree with Seán Sherlock TD, then stay at home.