5 November 2009 Edition
The key elements of Sinn Féin's job-retention and job-creation proposals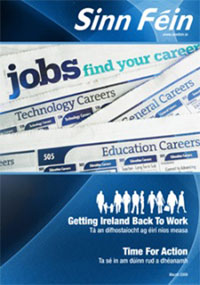 We need a jobs strategy now more than ever

BY ROBBIE SMYTH

THE Coalition Government does not have a plan to protect or create jobs in the Irish economy. Sinn Féin does.
Fianna Fáil and the Greens have spent the last 18 months protecting vested interests in the banking sector and the select 'golden circle' of builders, speculators and developers, while the economy leaked tens of thousands of jobs. Faced with an economic crisis of unprecedented magnitude, Sinn Féin set itself the task last autumn of producing a comprehensive job-creation strategy.
In March 2009, Sinn Féin launched Getting Ireland Back to Work. It is a comprehensive action plan for investing in the future of the Irish economy with over 80 separate proposals and initiatives aimed at slowing and diluting the worst of the economic downturn while preparing the ground for the next decades of job creation.
Getting Ireland Back to Work was only one aspect of the Sinn Féin policy work on economic regeneration. Senator Pearse
Doherty's Awakening the West – Overcoming Social and Economic Inequality, for the Oireachtas Committee on Arts, Sports, Tourism, Rural, Community and Gaeltacht Affairs, was published in February.
North Kerry TD Martin Ferris produced a comprehensive study on The Future of Farming and Fishing in the West for the Oireachtas Committee on Agriculture, Fisheries and Food which was published in March.
 
AN ENTERPRISE STRATEGY FOR ALL IRISH BUSINESS
The Leinster House team published recommendations on public finance and a submission for the Emergency Budget in April.
In the intervening months, the Coalition Government have yet to focus on a real stimulus package for the Irish economy while at the same time many of the issues raised and strategies proposed by Sinn Féin have found support in the media, the business, academic and trade union community.
For example, Sinn Féin's concern about a disconnection in enterprise policy has been recognised across the political spectrum. The party had proposed the establishment of "one-stop-shops that would combine the efforts of Enterprise Ireland, the County Enterprise Boards, enterprise clusters and business parks".
The new Fianna Fáil/Green Party Programme for Government picks up on this with a commitment to "an independent review of state agency support for enterprise" without recognising that it is an imperative and needs to happen right now. The Department of Finance has been looking merely at costs rather than effectiveness and is seeking to rationalise the agencies.
Sinn Féin believes we need to have a simple direct and effective presence on the ground. The response of the agencies themselves has been questionable with the IDA spending €2 million on an advertising campaign in the USA which claims that "Ireland: Innovation comes naturally" – that will bring the Dell jobs flooding back! 

A REAL STIMULUS PACKAGE
Poor Government planning, ineffective Government agencies, an absence of regulation in banking, planning and competition and a business sector fixated on short-term profits were the core domestic factors that have led to the economic crisis in Ireland today.
Yes there are some hugely significant international factors but nothing can detract from the sad truth that in Ireland we got some basic fundamental things wrong. The Government ignored growing small business and let funds and focus flood into building houses, hotels, shops and business parks we don't really need and maybe never will in their current form. We let Irish brands be bought up by multinationals who then took the production of them offshore while leaving the vital Irish food production sector at the mercy of a small cartel of retailers who care nothing for the Irish economy and are slowly asset stripping the sector under the guise of low prices.
Sinn Féin's response was to bring together the basics of a stimulus package that could kick-start the economy and begin the process of resolving the mistakes of the past decades.
Some of the key action proposals in this part of the Sinn Féin job plan included establishing "A €300 million jobs retention fund to subsidise workers in small and medium-sized enterprises struggling to kept their employees".
Front-loading critical infrastructure projects was another part of the Sinn Féin plan and the party proposed focusing on the infrastructure build that would be most labour-intensive such as a school-building programme that would take 150 projects into the architectural planning stage annually with 125 schools built each year from 2010 to 2013. This isn't a luxury. We urgently need these schools.
Sinn Féin also proposed expanding the national insulation programme to cover 100,000 homes by the end of February 2010 and 150,000 in subsequent years, creating the potential for 12,000 jobs by the end of 2010.
Other Sinn Féin stimulus recommendations included full implementation of the promised €252 million in National Development Plan funding for the introduction of ICT, broadband and digital media into primary schools as well as fast-tracking and expanding the promised €200 million earmarked for R&D into alternative energy under the Science Technology and Innovation Fund.
So far, the only response from the Coalition Government has been to cut school building and other NDP programmes, while a €250 million export subsidy fund has been established, ignoring the plight of thousands of small businesses and offering too little to many other enterprises in need. 

EDUCATION FOR THE FUTURE
Another key element of the Sinn Féin Getting Ireland Back to Work document was to focus on education and training. Sinn Féin believes: "There is an urgent need to offer back- to-education and retraining options to those who have lost their jobs."
The party proposed an immediate assessment of the €4 billion spent annually on FÁS, the VECs and the public sector third-level colleges. The review would be time limited with proposals coming out within three months.
The party supported the creation of a GI-type bill in Ireland for redundant workers and those signing on where they would have fees waived and keep social welfare benefits while studying.
By March 2009, over 150,000 workers had lost their jobs yet the Coalition Government only provided an extra 1,000 college places for redundant workers to retrain. It just isn't enough and Sinn Féin believes that there should be a massive retraining programme for workers from first to third level.
A significant amount of the workforce have no formal education or training qualifications while thousands of others need to upskill the qualifications they have, turning diplomas into degrees and postgraduate awards. We are heading for 100,000 people under 25 on the dole and they should be a key target for retraining. 

THE NEED FOR A NEW INNOVATION AND R&D STRATEGY
Sinn Féin proposed a three-month audit of the state Research & Development strategy, especially in the light of CSO/Forfas findings that only €1.6 billion was spent by businesses in the 26 Counties on R&D in 2007 and that only 1,200 firms were engaged in R&D with 13,900 people working actively in research.
Sinn Féin proposed establishing Eolas Glás Éireann, a new agency that would co-ordinate funding for green energy and environmental technology research. The party wants to create a publicly-owned green tech firm that would manage and use the island's energy resources, as well as creating a state loan and venture capital fund for alternative energy projects.
Sinn Féin also proposed a much greater focus and attention to research networks and business enterprise clusters that have emerged as proven vehicles to enhance R&D, new business start-ups and innovative practices in existing business. In 2009, there were 17 such clusters and the party proposes fast-tracking new strategic clusters in food industry as well as environmental goods and services.
Sinn Féin believes that the Government should double its targets for R&D development from 800 firms to 1,600 firms by the end of 2010.
Sinn Féin believes we have an opportunity to reshape the country and that any recovery plan must focus on ensuring we come out of this recession ready for the future, a green sustainable future, with improved quality of life for all our citizens. For now, Fianna Fáil, aided by the Green Party, have merely circled the wagons, protecting vested interests, perpetuating inequality and, worse still, making the least-powerful and the least-well-off pay the most for the mistakes of others.