5 November 2009 Edition
Workers and unemployed must unite against the cuts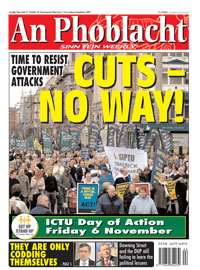 BY MÍCHEAL Mac DONNCHA

THE past year has seen many mobilisations of workers in the public and private and community sectors in demonstrations and strikes arising out of the economic recession. It is certain that even greater mobilisation and organisation is going to be required to meet the Fianna Fáil/Green Government's onslaught of cuts to public services and attacks on the incomes of low-paid workers and people on social welfare.
In each Budget since 2007 we have seen cuts to the vital public services of healthcare and education. These cuts have been made to already-inadequate services which the Government failed to truly reform and properly resource during the Celtic Tiger years.
The inadequacy of our public services and the inequality in their delivery is not due to lack of resources in the economy nor is it due to lack of commitment on the part of the frontline workers who deliver those services. It is a result of fundamentally wrong policies pursued by Government.

For example, the Fianna Fáil/Green Government has persisted with Health Minister Mary Harney's plan to allocate land in the grounds of public hospital sites for developers to build exclusive private for-profit hospitals. This 'co-location' scheme was supposed to take private beds out of public hospitals and 'free up' beds for public patients. But, since its inception, co-location has not made a single additional hospital bed available to public patients.
Why is this? Because the main motivation of co-location is not improved health for the Irish people but improved profits for the big business interests – many of them based in the United States – who saw dollar signs when they looked at the growing private health sector during the Celtic Tiger years. But now the Celtic Tiger is dead; so is the property boom; and the private health business has slowed down. This pillar of Government health policy is now crumbling.
Contrast this with the situation in Crumlin Children's Hospital, as recently exposed by the case of two-year-old Joy Lawlor Doyle who is awaiting life-saving heart surgery. This has highlighted the plight of many other children whose operations have been cancelled or delayed because of the lack of a sufficient number of Intensive Care Unit (ICU) beds in Crumlin.
It is a disgrace that on the day when Joy's mother phoned the hospital to ask about her operation, three of the four scheduled operations had to be cancelled because of the lack of ICU beds. This was despite the fact that the cardiac surgeon and his team were available all day. Life-saving operations for children are cancelled for lack of beds in Crumlin, a situation replicated in hospitals across the state.
During the summer and autumn of 2009 we have seen 910 acute hospital beds closed and unavailable for the admission of seriously-ill patients who need them. As a result, people have had to wait longer for planned operations. The queues on trolleys and chairs in our A&E units grew longer as there were not enough beds to admit people into the hospitals from A&E.
Out in the community, home-help hours for older people have been cut, as has care and assistance in the home for children with special needs. But if this Fianna Fáil/Green Government has its way, there is much worse to come.
Sinn Féin Dáil leader and Health spokesperson Caoimhghín Ó Caoláin TD challenged Health Minister Mary Harney to put plans for up to €800 million in health service cuts before the Dáil on its resumption in September. Harney refused to do so and Ó Caoláin said that if such cuts are proceeded with and are based on the proposals in the McCarthy ('Bord Snip Nua') Report they will destroy our public health services.  
Caoimhghín Ó  Caoláin said:
"Minister Harney has called on the HSE to impose up to €800 million in cuts to our public health services in 2010 on the basis of the McCarthy Report.
"If implemented, the savage cuts proposed by McCarthy would see thousands of people losing their medical cards, new charges for all prescriptions including those for medical card holders, higher costs to all patients for medicines, higher charges for hospital and nursing home care and means testing for home care for vulnerable older people. Such cuts, in addition to those already being imposed since the autumn of 2007, will destroy our public health services.
"We in Sinn Féin will continue to vigorously oppose the Government's attacks on our public health services."
Cuts in healthcare are mirrored by those in education.
Short-sighted policies make a mockery of the Government's claimed commitment to a 'knowledge economy'. With class sizes still unacceptably high, it is children from disadvantaged families who will continue to lose out.
Rather than provide essential classrooms during the economic boom, Fianna Fáil-led Governments poured public money into rents for pre-fabs, the sub-standard accommodation in which thousands of children are still being taught.
Sinn Féin Education spokesperson Pearse Doherty has called for increased investment in an accelerated school building programme to provide both educational infrastructure and badly needed employment in construction.
McCarthy's report proposes the axing of the Family Support Agency, which funds Family Resource Centres to the tune of €18 million. If this funding is cut it will threaten the future of 107 Family Resource Centres across all 26 Counties in this state.
These centres provide invaluable services and supports to families and communities including education and training, assistance for those suffering domestic violence and addiction issues. Childcare services are also provided, supplementing our very inadequate childcare infrastructure.
Likewise, the proposed €44 million cut in the 2010 Budget for community development programmes would hit disadvantaged communities worst, hitting the network of voluntary and community activists who do Trojan work in our communities.
Now is the time for workers in all sectors – public, private and community – as well as the unemployed and others on social welfare to stand against cuts in our public services.
A determined effort is being made by the Government and some of their friends in the media to divide public sector and private sector workers and to divide all workers from the unemployed. This must not be allowed to succeed.
Remember the old Irish saying:
"Ní neart go cur le chéile."
"Unity is strength." 
Pearse Doherty and Caoimhghín Ó  Caoláin