29 October 2009 Edition
Significant party meeting agrees way forward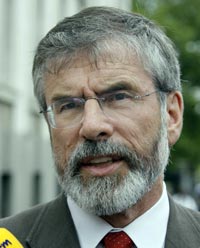 AN upbeat, enthusiastic Sinn Féin gathering in Louth on Thursday, 29 October saw activists from across Ireland commit themselves to a renewed strategy to meet current political challenges and opportunities.
The Ard Chomhairle-Plus was chaired by party Vice President Mary Lou McDonald and addressed by President Gerry Adams, Chief Negotiator Martin McGuinness, Senator Pearse Doherty, General Secretary Dawn Doyle and by Caoilfhionn Ní Dhonnabháin, Director of Political Operations (26 Counties).
There followed an open discussion with many contributors from various parts of the country.
A particular focus was agreement on the strategic way forward for the party in the South including an agreed programme of work for the immediate period ahead.
Preparations for elections North and South, for the upcoming budget and the expected range of savage cuts in the 26 Counties and the need for Sinn Féin to provide radical and effective political leadership in the community in difficult economic times were key themes.
Developments in relation to the transfer of policing and justice powers from Britain to the North featured strongly as did discussion of the Sinn Féin's primary objective of achieving national re-unification and independence.
The Louth meeting was part of a process of political engagement that saw 24 regional meetings involving more than 1,000 party members in recent weeks.
The meeting featured an extremely positive discussion on the way forward. Contributors emphasised issues such as the need for Sinn Féin in the 26 Counties to hone its message and to get it out; to offer leadership in communities against this government's policies, to set out a real alternative, to make the party bigger and stronger; to deliver an electoral strategy which can drive forward the republican project; to review the model of party membership; to become a truly campaigning party and to take seriously the crucial issue of fundraising.
Describing the meeting as "good" and "realistically optimistic" Gerry Adams said:
"What we are trying to do is unprecedented. This is a partitioned island and we can see the sickly fruits of this all around us. We want freedom but we also want a republican society. Everyone has a birthright to a home, a job, proper healthcare. Getting freedom is a big job and getting such a society is another big job."