29 October 2009 Edition
Investing in Ireland vital for recession recovery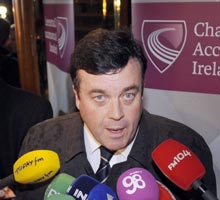 Coalition's €4 billion cuts will undermine economy

BY ROBBIE SMYTH

WITH just six weeks to budget day the flow of leaks on cutbacks planned by the Fianna Fail/Green Party coalition has become a torrent. Daily, new details of cuts are floated across 26-County media in a long-term voter mauling process. Buried within the budget leaks are proposals that will make the Irish recession the longest, deepest and hardest to recover from than any other industrialised state.
So get ready for welfare cuts, more hacking at the public sector wage bill and then there are the headline grabbers such as cutting the free TV licence for pensioners, the threat of carbon taxes without any real details on who will pay or how, all building into a smokescreen where the coalition are hiding their own glaring failure of being unwilling or unable to kick start the Irish economy from the growing recession into which it has been tumbling for the last 18 months.
Having already lost their Christmas payment, while receiving no increase in weekly payments this year and coping with cuts in other vital services, welfare recipients are already banking a significant cut in 2009, as are public sector workers while the €4 billion in proposed cuts for 2010 is still less than the €4.5 billion invested into Anglo Irish Bank since last December or the proposed €90 billion plus investment in NAMA.

BUDGET MEDIA LEAKS
The reality of Budget 2010 is that the government wallet is open for a select few but closed to the workers and low income families who are threading water barley in the recession up until now and will in 2010 have to pay more tax and get less services in return.
Of all the budget media leaks in recent weeks the most damning one is the proposal to cut government capital spending by over 1 billion reported last weekend in some national papers.
At a basic level such cutbacks will mean less new schools and refurbishments, delayed or cancelled hospital projects and well as a longer roll out of road as public sector transport projects. It seems that the coalition government do not have faith in the Irish economy and wont invest in recovery. Such proposals if implemented would prolong the recession.
The government's cuts in capital spending have to be seen against a back drop of a substantial fall, a collapse even in private sector investment in the Irish economy. The recent ESRI quarterly economic review and forecast provided some stark figures on the lack of new investment in the Irish economy.
In 2007 investment rose by just 2.1%, half of inflation that year so a fall in real terms. In 2008 there was a 15.5% fall in investment, a 30.5% fall predicted for 2009, with a further 15.5% decreases in 2010.

EMERGENCY ACTION
This clearly signals a lack of private sector investment in the economy and a lack of confidence in the business sector both Irish and international that the Irish economy can climb out of recession. It signals the need for government emergency action to stimulate investment.
These figures are reflective of the collapse in construction in 2008 and 2009, but they also signal less new businesses getting started, less research and development by companies along with less investment by new businesses in growing and developing their operations.
The government response has been a €250 million jobs subsidy programme, a €200 million Green Tech programme and €90 billion NAMA bailout for failed construction investments. So the coalition are in a bizarre ostrich parody where they respond to a crisis in one section of the economy by protecting the failed speculation of perhaps a 1000 plus builders and developers while ignoring the capital flight out of the economy, leaving physical investment in Ireland at the end of 2010 at 60% plus less than it was in 2007.
The crucial question the government have to focus on in terms of formulating an economic strategy that their budgetary spending will support is what will people in Ireland work at in ten years time? What will drive the economy?
It clearly wont be the building or construction sector on anything like the scale of the nineties and early years of this decade. Financial services employment will be far off the peak of the boom speculative lending bubble.
Foreign Direct Investment while slipping slightly will not bring any new massive increase in employment and will at best thread water with the 136,000 jobs that were supported by the IDA in 2008, while the Enterprise Ireland figure for 2008 of 145,758 is down 8003 on 2007 and unlikely to rise in the current investment environment.
We need to invest in a new future and that means preschools to get more children through the education systems, more university and college places for redundant workers, not the paltry places announced this year. We need better housing, hospitals and public transport and massive investment in R&D, in funding new business start ups.
The government has six weeks to rethink this budget and break down the Berlin wall that protects the builders and property developers and finally invest in Ireland inc. Anything less is condemning us all to economic misery.