22 October 2009 Edition
No fees by the back door, say Ógra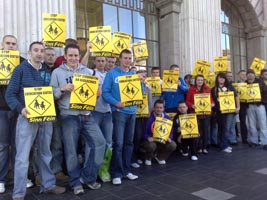 ÓGRA Shinn Féin have called on the Fianna Fáil/Green Government to give a guarantee on the commitment not to introduce college fees for college students.
The commitment was made in negotiations between Fianna Fáil and the Green Party over the future of the Government. However what have been dubbed "third level fees by stealth", college registration charges have increased from €900 to €1,500 this year, leaving many students and their families struggling to make ends meet.
At a demonstration in Dublin, on Saturday 17 October, Ógra Shinn Féin National Organiser Barry McColgan welcomed the commitment in the revised Programme for Government to cease plans on introducing third-but said:
"Students and families must have a guarantee that they will not be punished for this by being forced to pay an even higher registration fee. That, in my opinion, amounts to nothing more than third-level fees by stealth.
"Budget '09 saw an increase in the third-level registration fee from €900 to €1,500 a year. This in itself was a regressive measure and has meant hardship for less-well-off families. Any move to increase this fee further would place added pressure on families struggling to make ends meet."
Going to college is not cheap, he pointed out again.
"The cost of accommodation, transport, course materials and food alone present major barriers to students from disadvantaged areas attending third-level colleges. More increases in the registration fee would act as a further barrier to participation in third-level education."
DIRECT ACTION
Activists in Dublin Ógra Shinn Féin have been instrumental in organising protests and direct action against the fees in the past, attending marches which have attracted thousands of students from across the country.
"Ógra Shinn Féin remains strongly opposed to third-level fees, believing that education is a fundamental right and could and should be funded through fair direct taxation.
"The promise not to introduce third-level fees is good but not good enough.
"The Greens must ensure that there will be no further increases in the student registration fee and that access to third-level education rests solely on the students' potential rather than their ability to pay.
"Overall, this is a bad Programme for Government by a bad and discredited Government," Ógra Shinn Féin said.
"The programme is full of vague generalities and is easily picked apart. And, given both Fianna Fáil's and the Green Party's previous record on Programmes for Government, there is no reason to believe that anything positive will be delivered on the back of this one.
"The Green Party should have taken this opportunity to bring down this discredited Government in order to pull the plug on NAMA and other shambolic policies."