15 October 2009 Edition
INLA statement welcomed by Adams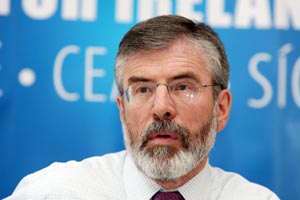 THE INLA's statement that it has ended its armed activities has received a cautious welcome from Sinn Féin President Gerry Adams.
The INLA emerged from a split within the so-called 'Official IRA' in the mid-1970s and was associated with the Irish Republican Socialist Party (IRSP) founded by Seamus Costello.
Shortly after it was founded, the INLA came under attack from their former associates in the OIRA, who wanted to destroy the new group before it could develop.
In the late 1970s and early 1980s, the INLA engaged in armed actions against the crown forces in the Six Counties. The group came to public prominence when, in March 1979, it killed Airey Neave, a leading Conservative Party right-winger and close adviser to Margret Thatcher, in the grounds of the British House of Commons.
Members of the INLA participated along with IRA Volunteers in the 1980 and 1981 Hunger Strikes at Long Kesh. Three INLA members  – Patsy O'Hara, Kevin Lynch and Michael Devine – died during the 1981 Hunger Strike.
CRIMINALITY
In the early 1980s, the INLA all but collapsed because of splits and criminality in its ranks, as well as the effects of the 'supergrass' trials. The distrust and division sowed in this period, as well as the inherent instability of the group from its inception, resulted in numerous splits, schisms and deadly feuds which played directly into the hands of the British occupation forces and their allies.
As the INLA further degenerated, the group became associated mainly with criminality as opposed to political action or armed resistance.
The INLA declared a ceasefire on 22 August 1998.
Last Sunday, in Bray, County Wicklow, at a commemoration ceremony for Seamus Costello, a statement from the INLA was read out which formally announced that the INLA had concluded that "the armed struggle is over. The objective of a 32-county socialist republic will be best achieved through exclusively peaceful political struggle."
Sinn Féin President Gerry Adams said:
"I welcome today's announcement by the INLA.
"Given the history of the INLA, there will undoubtedly be some scepticism about today's statement.
"However, if it is followed by the actions that are necessary, this is a welcome development.
"I would appeal to all groups to follow the will of the Irish people. This means pursuing political objectives by purely peaceful and democratic methods."