15 October 2009 Edition
Death-drivers knock down Neilly Rooney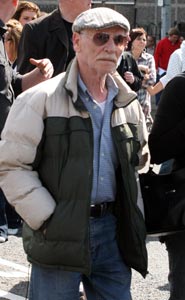 THE father of 9-year-old Patrick Rooney, shot dead by the RUC during the Falls Road pogroms of August 1969, was badly injured when death-drivers drove into him in the early hours of last Sunday morning, 11 October.
The 71-year-old great-grandfather was returning to his Albert Street home from a night out when the incident occurred.
According to Sinn Féin's Fra McCann, the occupants of the car are well-known 'hoods' and he appealed to local people with information about the hit and run to pass it on to the PSNI "to get these people off the streets".
Robert McClenaghan, of the Falls Residents' Association, told An Phoblacht that Neilly Rooney "wasn't shy about confronting local hoods" and those involved in anti-community behaviour.
"He attends any rallies we organise in the area against criminals and anti-social elements. I wouldn't be surprised if the thugs involved in this attempted murder targeted Neilly because of his stance." 
WIFE'S ARM BROKEN
Neilly's wife, Alice, was hit by car thieves eight years ago and had her arm broken. Members of the Rooney family have had their cars damaged by local thugs trying to intimidate them.
Meanwhile, it has emerged that a 17-year-old youth has appeared in court charged with offences relating to the incident.
The youth, who cannot be identified for legal reasons, is charged with aggravated vehicle theft, causing grievous bodily harm and failing to stop at an accident.