15 October 2009 Edition
OPINION: Budget provides opportunity to break from political pack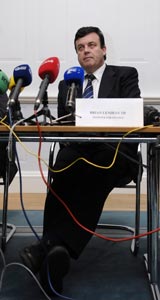 Sinn Féin must give voice to public discontent 
BY RUADHAN Mac AODHÁIN

AS the Lisbon Treaty fades in the public's memory and Opposition parties out-do each other on the Dáil expenses scandal, the upcoming Budget provides Sinn Féin with an opportunity to break from the pack. But with only seven weeks remaining till the day of reckoning, time to set out a real alternative is running out.
In the first week of December, Finance Minister Brian Lenihan will present the most ferocious Budget in the history of the 26-County state. Massive spending cuts and hikes in taxation will lead, predictably, to a media frenzy.
Local activism is a core part of Sinn Féin but it will not on its own deliver electoral success. Having TDs in the Dáil together with local representatives throughout the island has created an expectation that Sinn Féin will have an impact in national debates. Whether we like it or not, the public expect us to compete in the national media and we have to deliver on this if we want their support.
To have a continuing impact, we must do what we did last week in the Dáil: our decision to call for the Ceann Comhairle's resignation was decisive, distinctive and rapid. Although Labour stole the limelight, we were the focus of attention for a period of time.
There was also an acknowledgment by some journalists that Sinn Féin had set the agenda for the Ceann Comhairle's fall from public office. The lesson? Had we not made a pre-emptive strike, we would not have got any coverage at all. This shows we need to be proactive rather than reactive. Whether it is calling for the resignation of Government ministers or responding to the latest economic crisis, Sinn Féin must at all times be ahead of the curve.
The media coverage of the upcoming Budget will be no different to any other year: if we wait in line to make our proposals, our message will be eclipsed by the larger Opposition parties, and by trade unions and business groups.
The time to set out our stall on public finances and to publish our plan for reviving the economy is now. We must announce a new public finance strategy (and reiterate it in our pre-Budget submission) before the media frenzy begins.
Yet we will not capture the media's attention, let alone the public's imagination, if we do not provide radical and distinctive proposals. While we have a number of progressive proposals (for example, standardising various types of tax relief), they have failed to strike a chord with the public.
The economic crisis has raised public awareness of economic inequality. According to a recent report by TASC, 85% of the public believe that wealth is unfairly distributed in Ireland. TASC, a centre-left group, concluded that income inequality had become "entrenched" and "remains scandalously high".
The truth is that the public appear to be well ahead of the main political parties on wealth redistribution. There is a growing appetite for taxing the rich – not the poor. Sinn Féin now needs to express that discontent.
Targeting income inequality as a core objective could provide a real opportunity to get both the media and the public's attention. This will mean bold proposals, such as a salary cap of €90,000 on all public servants, a 48% tax band for earners on €75,000 and above, backed by a reiteration of our support for public services. And a renewed call for the complete nationalisation of our health service.
We urgently need to tune in to the zeitgeist – to respond to the spirit of the turbulent times we live in.