15 October 2009 Edition
Fianna Fáil Green Party Programme for Government assessed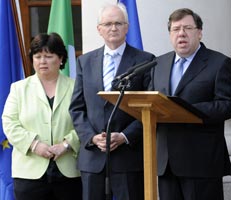 Long on eco-rhetoric, short on practicalities

BY ROBBIE SMYTH

COMING in at over 40 pages and a claimed 200 recommendations the new Fianna Fáil/Green Party programme for government reads more like an aspirational general election manifesto, albeit one that won't be vetted by voters.
Perhaps that was the real point of the Green Party conference last weekend – it wasn't about the new programme at all. Delegates voted not to leave the coalition government as it would mean the end of the Green Party as a political entity in Ireland, but they wanted some sop to stay in power.
Surely they weren't standing over this programme as a vindication of cutting edge Green thinking in the 21st century? Yes it has the words 'smart economy' used prolifically, and there are 'eco' labelled terms peppered throughout the document, 98 in all, with the word 'environmental' mentioned 19 times, but it is hard not see this as a green vision only for the prosperous high-income earners that elect them in North and South Dublin.
It certainly has nothing for the poor, the deprived, the low-income earners in rural and urban Ireland.
You wouldn't think we are facing an unemployment figure of 450,000 people, that a growing drugs epidemic is sweeping many of our young people away and jeopardising the small gains made in the many communities ravaged by decades of drug problems. No hint of the crisis in social partnership, of looming industrial discord. Nope the stags are safe but the trade union movement can save itself.
The first thing that strikes you about the document is the rhetorical vision and the repetitive promises peppered throughout the piece. In the first of its ten chapters we are told that "The time for crisis management is over. Now we must set about re-creating the Republic". Yes this is large canvas, big vision stuff, and in case you are not on message the introduction also tells us Obama-like that "We can rise to the challenge, We are the same people we were a year ago".
The term 'We' appears 26 times in the opening page-and-a-half but not one 'sorry for getting you into this mess'.

NO DETAIL
So what about the detail, what is in the fine print? Well in the small but welcome mode the flawed measure of GDP is to be replaced with a new index that includes quality of life variables, but no details of how it works will be given here.
More critical now though is the assertion that with a €4 billion euro gap between spending and tax revenue for the next three years we need "significant adjustments" so that the public finances can be "corrected". So no cutbacks are mentioned but there will be "targeted spending and taxation initiatives", so welcome to the world of Green speak.
The Greens and Fianna Fáil want to 'correct public finances, restore our damaged banking systems, regain competitiveness, and protect jobs'. So how will this actually happen?
Capital investment is a priority, but no figures will be available until the end of the year. Tax reform is promised through the elimination of unnecessary tax reliefs, but no reliefs are actually mentioned. One crucial issue is that of tax exile status, which translates into 'residency rules' if you speak Greenish, and this will be reformed, though with no details. Somehow I don't think Denis O'Brien is quaking in his boots at this one!
There will be a new carbon tax, but "those most at risk will be protected", again no details on how. On a positive note the Greens have taken on board a Sinn Féin proposal to abolish the employee PRSI ceiling and there will be somewhat fairer tax relief for private pensions.
Not mentioned are the 50% of private sector workers without a pension, or whether the government will finally move on the much talked about but not delivered pension initiative. There is also a proposed site valuation tax on non-agricultural land.
There will be no new taxes on high earners, while the section on business taxes are vague, but there will be new service charges for water and a "new system for the financing of Local Government", and again we don't need the details.
On the jobs front the coalition partners claim that "There are strong indications that the tough decisions of the past year are starting to bear fruit", and no further explanation of what this could mean is given.
The coalition's priorities are to retain jobs, re-skill people, create new jobs and sort out the banks. So in the context of 183,000 new people signing on in the last 12 months there will only be 1,000 new college places to retrain these workers in 2010, and more than a year into the economic crisis the government will "roll out" a €100 million Enterprise Stabilisation Fund and a €200 million Green fund out of the €7 billion the taxpayer has pumped into AIB and BoI.
A new code of practice is promised for the retail sector, but why not start now by reintroducing the ban on below cost selling in this sector and limit the size of supermarkets and maybe force some of the larger mutinationals to reduce their market share by selling stores.
Sinn Féin have long been calling for a review of enterprise agencies, and finally it is coming, but no details on when or how.
The terms "smart economy" and "innovation" are used repeatedly throughout the programme and the figure of 127,000 new jobs is used, but don't hold your breath, we are waiting for not one but three working groups and one task force to report back before any actual action is taken.

GAPING HOLE
Perhaps the most gaping hole in the Programme for Government and the key deficiency in Green thinking as it is articulated here is that "we". Environmentalism at its most basic involves a common, shared approach to problem solving. To save the environment we recognise that such a vital resource should be a shared one.
There are other vital resources that in times of crisis should be shared, and there is a green gain to be made. For example if we want green lending by the banks, maybe we should leverage our shareholding in these banks, and make them more green, more responsive to local small businesses.
If we want to take the initiative and radically reform energy provision then surely state ownership of the sector, or at the very least a vibrant state presence is key in the sector, the same applies to public transport and telecommunications. Eircom is not mentioned here, CIE only barely.
There are though a lot of gimmicks such as an old Fianna Fáil stalwart, and instead of an information age town we will have a "Smart Town".
The term 'smart' is used 27 times, but massively dwarfed by 386 appearances for 'we'. Unfortunately for the Irish citizen locked into another two years of this government, this 'we' is not really an environmental one, it is a 'we' of self preservation and self interest.
UNEMPLOYMENT: The figure of 127,000 new jobs is used, but don't hold your breath