8 October 2009 Edition
Antrim Borough 'cold house for nationalists'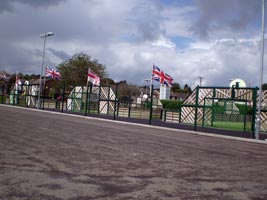 A LOCAL Councillor has raised concerns about increased anti-nationalist activity in Antrim and the perceived institutionalised bias in local government policy.
Speaking on Wednesday, Antrim Borough Councillor Anthony Brady said that in the past week alone he had highlighted a sectarian attack carried out by a group of thugs who attacked a car carrying a child and a woman wearing an Antrim GAA top in Antrim on Saturday.
"Although I understand that police were called immediately by staff working nearby, when contacted by the media the PSNI said it had no record of any incident. I hope that this was a misunderstanding of the request by the PSNI and not a deliberate attempt to cover-up this attack", he said.
Brady went on: "This attack was just the latest example of the sectarian campaign of intimidation being employed by loyalist factions in Antrim. Only recently a pipe bomb was left outside the home of a nationalist in Antrim. Earlier in the summer loyalist flags were erected outside St Comgall's Catholic Church. And of course we had the episode of unionist politicians showing their intolerance and bigotry by demanding that local school children remove their GAA tops while bag-packing in the Tesco supermarket to raise money for their local team."
Councillor Brady went on to say that the the proliferation of Union and other unionist flags displayed at a children's playpark in Randalstown (pictured above)  during the so-called 'marching season' showed what nationalists have to put up with in Antrim Borough Council area.
"This is extremely offensive to nationalists who feel intimidated at this attempt to mark out an area that should be a source of enjoyment for children as a no go area for one section of the community. This park was built with public funds and should be available to everyone", Brady said.
"The Art For Regeneration Project, directed at areas for diversification at bonfires into art projects, is a glaring example of public money being directed specifically towards unionist projects by Antrim Borough Council."
Brady said that the scenes in Randalstown highlight the ongoing problem of funding for so called shared spaces.
"This area received over £10,000 from CRU and council 3 years ago. This is the same area they intend to invest in the art for regeneration. This is unacceptable and I intend to request a full appraisal of how public funding is being disbursed in the Antrim Borough and to ensure that in future it is not skewed towards only one section of the community", he said.