8 October 2009 Edition
New Councillor for Andersonstown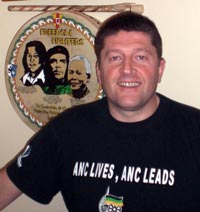 Andersonstown republican Caoimhín Mac Giolla Mhín has been co-opted to Belfast City Council to replace Paul Maskey who will concentrate on his role as an MLA for West Belfast.
A member of the West Belfast Comhairle Ceantair officer board for several years, Caoimhín initiated the West Belfast Sinn Féin newspaper which is distributed quarterly to homes in the constituency.
He stood as a candidate in the Upper Falls area for the council elections in May 2005.
A fluent Irish speaker he is presently working with his colleagues in the Caoimhín Mac Brádaigh cumann to get bilingual street signs erected across the west.
Caoimhí n worked for Coiste, the Republican ex-Prisoners group, and was deeply involved in developing Coiste's political tourism project, before he moved to the West Belfast Partnership Board as their economic development officer, where he was instrumental in forming the West Belfast Traders' Forum and initiating the 'Buy Local' campaign.
Speaking after the council meeting, Mac Giolla Mhín said he was proud to have been chosen by his colleagues as a councillor for Andersonstown and that he looked forward to working alongside Paul Maskey MLA in the interests of the community.
"Tá mé ag dúil go mór leis an dúshlán nua seo. Déanfaidh mé mo sheacht ndícheall mar cúid den fhoireann Sinn Féin i gceantair Bhaile Andarsan. Tá cúid mhór obair le déanamh againn ar son pobal s'againne i halla na Cathrach, Béal Feirste," arsa Caoimhín.
Andersonstown Martyrs Sinn Féin cumann have wished Caoimhín well in his new role.