8 October 2009 Edition
THE JULIA CARNEY COLUMN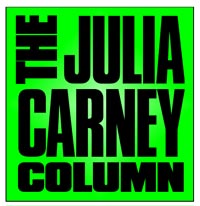 RTE's Orwellian attempts to write Sinn Féin out of O'Donoghue story
SO HERE'S how the media works. On Tuesday morning, Gilmore and Kenny are wandering around and throwing shapes about our expense-account-loving Ceann Comhairle John O'Donoghue. The former wants a meeting of all the party leaders in the Dáil. Kenny is planning on meeting with the Fine Gael members of the Oireachtas Commission to demand cutbacks in the Ceann Comhairle's office.
In short, business as usual. The main parties looking after each other. The nod, the wink and the nudge to the ribs language of cosy drinking cartels of the Dáil bar. Unfortunately for them, it's not a language Sinn Féin's Caoimhghín Ó Caoláin speaks.
Up pops the Cavan/Monaghan poll-topper on the RTÉ lunchtime news and all the other stations with a simple message: John O'Donoghue must go. Now. No ifs. No buts. No equivocation. He has to go now and, while we're at it, let's look into other ministers as well to see how many first-class hotels they've been staying in on our euro.
So Sinn Féin puts down a motion calling for the Ceann Comhairle's resignation and calls for a vote to oppose the Order of Business because the Taoiseach refuses to call for O'Donoghue to stand down. And when Caoimhghín calls for a vote, no one, including Labour, moves to support him.
But then Eamon Gilmore gets up in the Dáil, a couple of hours after Caoimhghín first demanded O'Donoghue must go, to parrot the Sinn Féin line and, suddenly, the Shinners can go to the back of the bus. By the 6-1 RTÉ News, the headline is that the "main opposition parties" are taking on O'Donoghue as Fine Gael join Labour (who joined Sinn Féin, let's not forget) in calling for him to go.
Without even mentioning that Sinn Féin was the first party to call for O'Donoghue to go, RTÉ Political Correspondent David Davin-Power claims that Fine Gael's decision to call for the Ceann Comhairle to step down is because "they're responding to being trumped by Labour" – who were previously trumped by... come on, David... come on, lad, you can say it... Sinnnn... Rhymes with campaign.
Nope. He couldn't do it, and while some RTÉ journalists would have been able to, he's not one of them.
Gilmore, we're told by a breathless Davin-Power, shocked the House by calling for something Sinn Féin had called for hours earlier. Maybe they don't watch RTÉ in the Dáil. More of a TV3 audience.

"We may have underestimated Labour's resolve," David told viewers. We may indeed, Davie, but we'd never underestimate the determination at the Ministry of Truth offices that are RTÉ rewriting Sinn Féin out of the story.
This is how the media works, boys and girls. Sinn Féin has a newspaper; Labour has a TV station.
Before moving on, there's one other group of people who can take a bow on this.
The Sunday Tribune was the first to start breaking O'Donoghue's expense accounts. They kept up the pressure by putting the story on the front page week after week after week, hammering it home and cutting the ground from under him.
On Tuesday, the Trib claimed a scalp, but it was Caoimhghín who collected it for them.



SO, Lisbon, eh? That was fun.
Like most people hoping for a No vote, I had reconciled myself to taking a bit of a beating on Saturday but not the 20-point shift that hammered us into the ground. Cue an orgy of gloating and triumphalism from an endless stream of jubilant Yes campaigners on the media. They were a lot quieter last year.
By the one o'clock news bulletins I'd had enough and set off down the pub, telling my non-voting and slightly bewildered flatmate that I was off to learn German.
Then Sunday comes along and with it the Sunday papers and, as bad as they are, I pick up the Irish Times on Monday morning to see the front-page shot of dancing Generation Yes activists and it's worse. You see, the Carneys have traditionally never been good losers and to this day my father is haunted by a junior Cork hurling match from the 1960s lost in injury time by a fumbling right half-back.
The interesting thing about some of the coverage was the suggestion (Stephen Collins in the Times comes to mind) that Sinn Féin should have supported a Yes vote as if the party just tossed a coin to decide its position on Lisbon, as if a republican could do anything other than argue for a No.
Republicans know why we opposed Lisbon and we know why we were right to do so. Everybody in politics takes a beating from time to time. Taking one for something you believe in doesn't hurt any less, but it's a proud thing too.

An Phoblacht Magazine
AN PHOBLACHT MAGAZINE:
Don't miss your chance to get the second edition of the 2019 magazine, published to coincide with Easter Week
This special edition which focuses on Irish Unity, features articles by Pearse Doherty, Dr Thomas Paul and Martina Anderson.
Pearse sets out the argument for an United Ireland Economy whilst Pat Sheehan makes the case for a universally free all-island health service.
Other articles include, 'Ceist teanga in Éirinn Aontaithe', 'Getting to a new Ireland' and 'Ireland 1918-22: The people's revolution'.