8 October 2009 Edition
DRUGS CRISIS: The hierarchy of victims and the Government's holy writ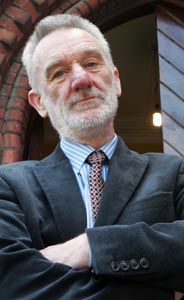 BY ELLA O'DWYER
STEREOTYPICAL attitudes about drugs include images of people 'shooting up' in  dark, secluded side-streets or popping pills in the nightclubs of big cities like Dublin. Now we see the signs in rural towns throughout the country and, if anything,  there's a level of complacency amongst the users and their suppliers and even the general public.
You'll see dealers hanging around post offices and social welfare premises on dole day or at street corners marketing their supplies. Merchants Quay Ireland, a Dublin-based organisation that provides a broad range of supports for drug users, last week launched a report that presents a poor prognosis.
While we didn't need a report of any kind to tell us that the heroin epidemic has run rampant round the country, the recently published Merchants Quay Ireland Annual Review for 2008 certainly brings the whole issue home.
"In recent years, heroin use has become a major issue in many towns and cities across Ireland that were previously untouched by this problem," the report says.
"Access to appropriate treatment and support is totally inadequate in many parts of the country."
A spot-on evaluation of the state of services when it comes to drug addiction and the lack of resources to tackle the effects and side-effects involved. In fact, Government provisions for dealing with the problem are so poor that communities have been driven to try and fend for themselves.
The drugs problem has hit the streets in Cork City at an alarming rate and one particularly hard-hit community,  Knocknaheeny, has decided to do something about it, setting up the first committee in the city to address solely the issue of drugs last August.
Susan Jacobs is from Knocknaheeny and is a member of the committee.
"There have been five drugs-related deaths here since May and one of them was a neighbour of mine – a young man of 21 years of age," Susan says. "That's why I decided I had to get involved in doing something to put a stop to the problem or at least get proper help for the addicts who are trying to get off the drugs.
"One of the first things we decided to do was to get on to the council to evict known dealers in council houses. The council knows where the dealers are living."
The committee did approach Cork City Council regarding the problem, as Sinn Féin Councillor Jonathan O'Brien explains.
"We approached the council with the names and addressees of dealers in the area. The dealers were called in for interview and reminded of the terms of their tenancies.

"We also encouraged local people to pass on information to the gardaí through the Dial To Stop Drug Dealing, a facility that provides a safe, confidential and anonymous way to pass on information on drug dealing in their local community."
So the committee has made an impact already.
And it's not just the main cities that are seeing an increased drugs problem.
The small north Tipperary town of Nenagh is an example of what is happening in rural Ireland, as Sinn Féin Councillor Séamie Morris points out.
"There are people walking around Nenagh like zombies and the drugs services here are pitiful and through no fault of the Mid-West Drugs Task Force co-ordinating whatever services do exist. Last year, the Government cut their funding by 19.05% – that was in pre-recession times, which just goes to show that the Government isn't really serious about tackling the drugs problem."
The south-east of the country fares even worse, as Sinn Féin Councillor David Cullinane outlines.
"I sit on the Joint Policing Committee here in Waterford and even senior gardaí like the chief superintendent admit that there has been a massive increase in drug-related crime like burglaries in recent times. Heroin is the major problem here.
"Another difficulty is the lack of adequate treatments available. There is a one-year waiting list to get on a methadone programme and the reason given for that is, of course, lack of funding.
"Funding for the Drugs Task Force for the south-east has been cut by half over the last three years and the remaining funds just can't service the region which covers Waterford, Wexford, Kilkenny, Carlow and south Tipperary."
Whatever few services for drug addicts are in place are unlikely to be expanded in a time of financial crisis, despite the fact that it would make more prudent economic sense to do just that.
During the 1980s recession the drugs and homelessness problems were left unaddressed and investment in these areas were cut despite the fact that recession brings with it increased demands for services provided by organisations like Merchants Quay Ireland.
"Looking ahead," Merchants Quay CEO and long-time campaigner Tony Geoghegan says, "like everyone else, we are worried about the future.
"It seems inevitable that the numbers of persons becoming homeless or becoming dependent on drugs will increase substantially. It is holy writ that the prudent response of Government in this crisis is to cut social spending."
Sinn Féin Justice, Equality and Human Rights spokesperson Aengus Ó Snodaigh TD says the economic crisis can't be used as an excuse to cut funds for drug rehabilitation projects in next month's Budget.
"The numbers of people presenting for help with drug addiction is at record levels. This is particularly so in the case of heroin addiction. If funds for treatment and rehabilitation are cut, many of these addicts who want to come off drugs will not be able to do so and will continue doing whatever they can in order to get money to feed their habits. This will obviously have a negative impact on the economy.
"Drug addicts wishing to come off drugs must be afforded every possible opportunity to do so, not just for their own benefit but for the benefit of the wider community."
In the face of the threatened 'Bord Snip' cuts to community services and the effects of the state 'bad bank' NAMA on taxpayers, drug addicts might seem to be low on the hierarchy of victims.
We've all heard the saying 'Sure, they're only junkies.' But the Merchants Quay report reflects on the recession of the 1980s when, in an effort to save money, nothing was done to address the drugs problem – a definite false economy. The problems spilled over into the following decades and children of the nation. As Tony Geoghegan concludes:
"We cannot afford to make the same mistakes again."
The Merchants Quay report reflects on the recession of the 1980s when, in an effort to save money, nothing was done to address the drugs problem – a definite false economy