8 October 2009 Edition
TURF WAR: Leitrim County Council unanimously backs Sinn Féin appeal to Environment Minister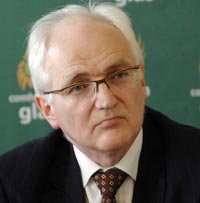 Gormley urged not to ban small-scale turf cutting 
THE October meeting of Leitrim County Council saw unanimous support for a call by Sinn Féin Councillor Martin Kenny to Environment Minister John Gormley not to implement the proposed ban on turf cutting by farmers on their own bogland.
At the moment, the controversial proposal covers boglands that are in Special Areas of Conservation (SACs), of which there are nine in Leitrim, mainly in the north of the county, but there are fears that it will be extended to all boglands in the future.
Proposing the motion, Martin Kenny said:
"This is about the interpretation by the Department of the Environment of the EU directive on environmental protection and preservation of boglands. While everyone, including the rural community, wants to preserve and protect the environment, there are a few facts that need to be set straight regarding this issue.
"Firstly, only 10% of the raised boglands in the country are in private hands as the state, through Bord na Móna, own the other 90%. Of the small portion owned by farmers, less than 10% of it is used for harvesting turf. So the issue of boglands disappearing is not due to the rural family saving turf to heat their home for the winter but rather commercial peat extraction, mainly by Bord na Móna, over the decades."
Councillor Kenny argued that the planting of evergreen forestry in many mountain and other shallow boglands by the state-backed commercial forestry company Coillte and other companies has decimated these areas and poisoned water courses.

"Of course, all this was done in the pursuit of profit for the major companies," Martin Kenny continued, "and now, when the harm to the boglands is exposed for all to see and an EU directive is served on Ireland to protect boglands, the Government sets out to blame the ordinary family cutting turf to heat their home as they have for centuries!"

SCIENTIFIC EVIDENCE
He added that there is strong scientific evidence that the raised bogland, which acts as a living organism, is not in any way damaged by small-scale turf cutting at the edge of the bog, which then replenishes as hollow bank later on.
In fact, he said, studies show that some bodies of blanket bog where turf is being cut on a small scale are more active or 'alive' than bogs where no turf has been cut for several decades, indicating that other factors also affect the health of the bog.  "Many experts believe that the organic life of the wet boglands go through active and dormant cycles," Martin Kenny said.
The problem with turf cutting, according to the Wildlife Service, he added, is that it drains the moisture out of the blanket bog.
"While that may be true with large-scale commercial operations, it certainly is not the case where a few families extract turf from the edge of the high bank and the hole fills with water.
"The plain fact is that this proposal to stop people cutting turf has only one group it benefits and it's not for the environment or the hard-working rural community but keeping inspectors in jobs.
"Every effort must be made to get the Government to abandon this nonsense and come to a sensible accommodation with people cutting turf on a small scale all around the country."