1 October 2009 Edition
Government sinks to new low as Cowen defends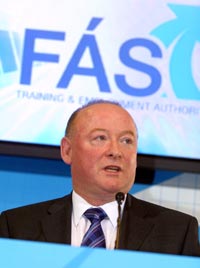 By Mícheál Mac Donncha
The Fianna Fáil/Green Government sank to a new low this week as it struggled to defend its indefensible golden handshake for resigned FÁS boss Rody Molloy who presided over massive wastage and management greed at the State training agency.
Taoiseach Brian Cowen was on the ropes on RTÉ radio's This Week programme on Sunday as he put in one of his most unconvincing performances yet, trying to get listeners to believe that it was not the threat of legal action by Rody Molloy that led to the decision to give him the massive pension award. But only the previous day, on another RTÉ radio programme, Saturday View, Justice Minister Dermot Ahern said the exact opposite, offering the fear of his threat as the only excuse for awarding Molloy what Ahern called "an extra few pounds"!
Sinn Féin Dáil leader Caoimhghín Ó Caoláin said it was "breathtaking" that the Taoiseach could defend this payment as 'fair'. Ó Caoláin also described the Fianna Fáil/Green Government as "hypocritical" over its surrender to Rody Molloy's threat of legal action while at the same time the State fought parents of children with special needs through the courts at huge cost.
Ó Caoláin said:
"Whether Mr. Molloy uttered the threat of legal action or not, that threat was clearly present.
"The Fianna Fáil/Green Government is also grossly hypocritical in surrendering to Rody Molloy's blackmail threat of legal action if he did not receive his €1 million golden handshake.
"The Government has fought parents of children with special needs who took legal action to try to achieve the right to education for their children. Had the Government provided the special needs education services so sadly lacking here, such legal actions would never have been necessary.
"In the five years up to 2006 nearly €20 million was paid out by the Department of Education arising from these legal battles which the Government chose to engage in. This figure does not include legal costs. "
This information came from a ministerial reply to Dáil Question from Sinn Féin TD Seán Crowe in April 2006.
"The Government is in complete disarray over the FÁS scandal, has lost every shred of credibility and should resign," concluded Ó Caoláin.
Sinn Féin Finance Spokesman Arthur Morgan called for the resignation of Mary Coughlan, Tanaiste and Minister for Enterprise, Trade and Employment, following her involvement in the golden handshake for Molloy. Morgan said in his opinion the public had all the facts it needed and it was clear the deal done with the former FÁS Director was crooked and should be reneged on. Morgan said:
"Mary Coughlan has no authority to hand huge sums of taxpayers' money to people accused of corruption and fraud. This revelation says everything about this government – even when someone is found out to have been skimming the state, Fianna Fáil and the Greens are happier to give them a golden handshake than to pursue justice on behalf of the public.
"The Tanaiste must resign after her involvement in this sordid matter. The deal made with Rody Molloy should be reneged on. I would go further and say that Mr Molloy should be forced to pay the taxpayer back expenses that he abused while director of FÁS.
"At a time when the Government is determined to cut Child Benefit, hospital services and sell out our education system, Sinn Féin will not stand for corrupted business as usual from this Government and the likes of Rody Molloy and his ilk. The Greens need to quit their pretence of being concerned about honesty in government dealings and stop propping up Ireland's golden circle. It's clear this deal was crooked and all those involved in it must be held to account.
"Mary Coughlan's involvement in this crooked deal has made her position untenable and she should resign from the cabinet immediately."