1 October 2009 Edition
Communities unite against the cuts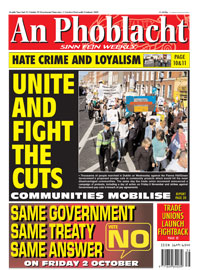 By Mícheál Mac Donncha

There was a massive turnout of up to 16,000 people in Dublin city centre on Wednesday in a demonstration against proposed savage cuts to community facilities and projects throughout the 26 Counties. €44 million could be cut and 6,600 people lose their jobs if the proposed cuts go ahead.
Dozens of organisations joined the march including ICTU, SIPTU, IMPACT, UNITE, Dublin Council of Trade Unions, the Community Sector Employers Forum, the Community Platform, the Community Workers Co-Op, Pavee Point and CDPs across the capital and across the country.
Sinn Féin President Gerry Adams, Social Affairs spokesperson Aengus Ó Snodaigh TD and party Vice-President Mary Lou McDonald led the Sinn Féin contingent on the march from Parnell Square to Leinster House.
In the Dáil last week Sinn Féin Dáil leader Caoimhghín Ó Caoláin demanded that the Government refuse to implement the proposed cuts of €44 million to community development projects (CDPs) and local partnerships proposed in the McCarthy Report.
Ó Caoláin pointed out that the Government's own 'task force on active citizenship' has praised the role of the Community Development Programme, saying it "provides community premises, development workers and capacity building projects to disadvantaged communities in over 180 locations throughout the country. These projects are primarily in the most disadvantaged communities. They play a significant role in building community infrastructure and enhancing the capacity of their communities".
Ó Caoláin asked Minister of State and Government Chief Whip Pat Carey:
"How can the Minister of State reconcile that statement with the decision in the Budget for 2009 to cut the budget to community development projects by 15%? Will he give us a firm assurance that the Government will not adopt the savage cuts of €44 million in budget 2010? Does he agree that if they were implemented they would devastate the network of voluntary and community activists who do Trojan work in all our communities?"
In replying Minister of State Carey offered no guarantee that the major cuts signalled would not be imposed. He spoke of "consolidation and integration of projects at local level". Deputy Ó Caoláin said he feared "the idea of integration is a smokescreen to cover the Government's real agenda, which is to cut back the funding provision".
Gerry Adams is well received on the CDP protest