10 September 2009 Edition
End the siege of Gaza, says Adams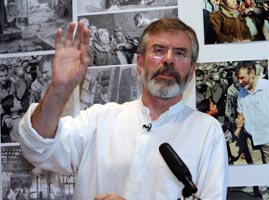 SINN FÉIN President Gerry Adams has once again called on the Israeli Government to immediately end its siege of the Gaza Strip after an appeal by the United Nations and international agencies to Israel to allow urgent repairs to be carried out on the water and sewage system in Gaza.
According to these agencies, more than 13 million gallons or 50 million litres of raw or partially treated sewage is flowing into the Mediterranean Sea each day. This has been caused by bomb damage caused by Israeli forces to Gaza's sewage and water treatment systems which are now totally inadequate. The damage is compounded by the refusal of Israel to allow the necessary repairs and investment essential to service and upgrade the sewage and water systems. Much of this pollution finds its way back onto the coast of Gaza and Israel.
FACT-FINDING VISIT
Five months ago, the Sinn Féin president visited the Middle East and spent two days in Gaza. The water and sewage system was already then at the point of collapse.
In July, Gerry Adams published a report on his visit.
Speaking after the UN and international appeal, he said:
"There is a humanitarian crisis in Gaza. In Gaza, the civilian population has borne the brunt of the fatalities, and in particular children and women."
Residential areas, educational and medical facilities alongside political and civil administration establishments were targeted, including the police. Water and electricity services and roads were also targeted.
400 CHILDREN KILLED
Over a three-week period, from 27 December 2008 to 18 January 2009, it is reported that more than 1,400 people were killed, including over 400 children and a hundred women.
Casualties were in the region of 5,000, including 1,800 children and almost 800 women.
According to the UN, the Israeli attack "wrought unprecedented devastation and hardship on an already-impoverished population", compounding the effects of an 18-month blockade and a tight regime of closures and restrictions on movement that date back to the early 1990s.
Gerry Adams said:
"While I support the demand by the UN and international agencies that Israel allows urgent repairs to Gaza's water and sewage system to proceed, the reality is that only a complete lifting of the siege by the Israeli Government can significantly improve the lives of the million and a half people trapped in that area."