10 September 2009 Edition
Need before greed - Cowen confronted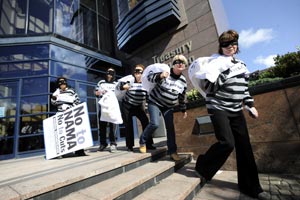 SINN FÉIN TD Aengus Ó Snodaigh joined Socialist Party MEP Joe Higgins and Cllr Richard Boyd Barrett of People Before Profit at the Treasury Building in Dublin on Wednesday, where they confronted Taoiseach Brian Cowen over the injustice of the government's proposed NAMA legislation.
Members of the United Alliance Against the Cuts (UAAC), of which Sinn Féin is part, staged a sketch in which they dressed as robbers representing corrupt bankers, dodgy developers and the government who are bailing them out with the public's money through NAMA.
Gardaí
Gardaí moved on the protestors in an attempt to stop them from approaching Brian Cowen's car as he arrived to give a talk to the Institute of Public Administration (IPA).
The colourful protest, took place after a press conference held by the UAAC to announce a major march against NAMA in Dublin on Saturday 19 September. The march will leave from The Garden of Remembrance in Parnell Square at 1pm. On the theme of 'Need before Greed' the organisers are calling for a huge display of public protest against NAMA and the bank bail outs calling instead for the bail out of jobs and services.