10 September 2009 Edition
INTERVIEW: Tipperary - No mean performer on any ground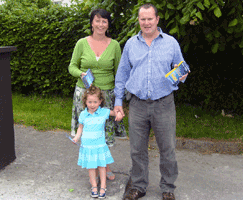 Premier performances from the Premier County
WHETHER on the political, hurling or any other battleground, Tipperary has always been a main player, as witnessed in last Sunday's hurling final.
Steady progress, patience and keeping the eye on the ball are characteristics that contributed to breakthroughs, both in hurling and politics, in a county that this year sees Sinn Féin take its first county council seat in Tipp North in over 50 years and the county almost seize the Sam McGuire Cup.
Sinn Féin North Tipperary Councillor SÉAMUS 'SÉAMIE' MORRIS talks to Tipperary woman ELLA O'DWYER.
THE last two local elections saw breakthroughs for Sinn Féin in North Tipperary; the first when Séamie Morris topped the poll in Nenagh in 2004.
"We made a significant breakthrough here in North Tipp when I topped the poll in Nenagh in 2004 and became the town mayor. It was a great achievement for the party. But that achievement couldn't have happened if it weren't for the likes of Jimmy Nolan and Patrick Hackett, who kept things going all down the years here in North Tipp, just as Marcus Fogarty did in South Tipp."
Séamie's first year in office was tough enough. "It's one thing getting elected but it's another to carry out the work.
"I was shocked when I first joined the council. A lot of the councillors were lazy. They just accepted the decisions of the executive – the town clerk and engineer – without question. I stood up to the executive. I was simply looking for the rights of the people who elected the council to be met.

"So, during those first four years on Nenagh Town Council I got the reputation for standing my ground on an issue. I wasn't going to be messed about and gradually things smoothed out between the executive, me and the other councillors."
Paul Hayes is another local republican Séamie notes.
"Paul made a great contribution as director of elections in the 2007 general elections when we did very well, taking 1,672 first-preferences in a constituency that for years had been Fianna Fáil dominated. We didn't take the seat but we used the campaign to build for the next local elections."
Because North Tipp, for a long time, was a Fianna Fáil dominated constituency, Sinn Féin in North Tipp had to be extra focused. During that general election their realistic target was to take a county council seat in the north of the county.
"The Nenagh Newport constituency has good republican support but then before the last 'locals' the constituency was changed and key areas like Newport were moved to another constituency so we had to quickly adapt, meaning that we effectively had to work in and on behalf of three constituencies: the two areas that voted for us in 2004 and the new constituency that evolved from the boundary change."
They had their work cut out for them. Nevertheless, relentless work and steady patience paid off and Sinn Féin won a seat on North Tipperary County Council. It was a kind of premier prize in the Premier County as it was the first time since 1957 the party regained the seat won by lifelong republican Andreas McDonnell.
"I have to especially thank my family," Séamie Morris says, "from my wife Denise to my children, especially my four-year-old daughter Ciara who hit the pavements daily trying to get her daddy elected!"
Although Séamie comes from a republican background extending back to the 1970s, he came to elections through his work in the community, especially with young people in the area of sport, one of his main passions.
"I've been involved in community work for years. I work with the local camogie and hurling teams in Nenagh with youngsters. Sport is very important in the character development of kids and we're blessed in Tipp in any area of sports, especially Gaelic."
But you can't win it all – at least not in one go, as Tipp folk readily accept.
"I know Tipp lost the hurling final last Sunday but that young Tipp team put everything they had into the game and that's what sport, like politics, is – an open field for outreach and development.
"After a visit from French rugby enthusiasts here in Nenagh last year, I put a proposal to the council for the development of sports tourism in North Tipp and the outcome of that is that the French town of Port de Bouc are bringing an under-11 rugby team from Nenagh to their town for a tournament later this month. There will also be an official reception by the Communist Party Mayor of Port de Bouc, Patricia Ferdandez .
"Incidentally, the party petitioned in support of republican women POWs held in England in the 1980s. [Editor's note: Ella O'Dwyer was one of those prisoners.]
"The French have a huge empathy with the Irish republican struggle and particularly Sinn Féin's stance on the Lisbon Treaty."
Séamie Morris believes there are more ways than one in which republicanism can express itself and sports have always been part of what we are as Irish republicans.
"No place else is the connection between sport and republicanism better represented than on an All-Ireland final. Where else would a Tipp republican be last Sunday except Croke Park?
"The training, dedication and self-belief that brought the Tipperary team to where it's at now is similar to what brought North Tipperary Sinn Féin to where it came at the last local elections when we took the first county council seat since 1957 – a fair achievement."
On Tipp's contribution to the struggle, Séamie says republicanism was always strong in the county, even if not always highly visible. "Republicanism has always been strong in Tipp even though we were never always in a position to shout it off the rooftops.
"Going right back the Tan War, Tipp has played its part on many a battlefield, and two of Ireland's finest hurling teams demonstrated their prowess last Sunday, over nine decades since Michael Hogan, the captain of the Tipperary team, was shot by the Black and Tans in Croke Park."
Those events at Croke Park on 21 November, 1920 when Black and Tans shot indiscriminately into the crowd, killing 14 people during a Dublin v Tipperary Gaelic football match, left an indelible mark in the republican psyche, and Gaelic games and republicanism have always been intertwined.
This year, Tipperary and Kilkenny stood up to the mark in both sporting and political fields with Séamie making a first in over five decades in the last 'locals' and Kilkenny's Kathleen Funchion taking a first borough seat for Sinn Féin in Kilkenny since the 1920s. No mean performances in either county or on either score. Sure, sport knows no borders.
SPORTS TOURISM: Rugby enthusiasts Christian Torres, Director of Tourism Port de Bouc and Philippe Riegert, accept presentations from Séamie Morris during a visit to Nenagh last year 
An Phoblacht Magazine
AN PHOBLACHT MAGAZINE:
Don't miss your chance to get the second edition of the 2019 magazine, published to coincide with Easter Week
This special edition which focuses on Irish Unity, features articles by Pearse Doherty, Dr Thomas Paul and Martina Anderson.
Pearse sets out the argument for an United Ireland Economy whilst Pat Sheehan makes the case for a universally free all-island health service.
Other articles include, 'Ceist teanga in Éirinn Aontaithe', 'Getting to a new Ireland' and 'Ireland 1918-22: The people's revolution'.