10 September 2009 Edition
Dublin City Council calls on Tánaiste to move on dockers deadlock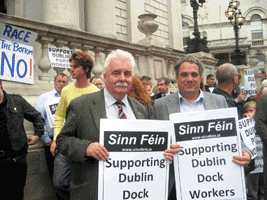 BY BRENDAN KERR
DUBLIN City Council has endorsed an emergency motion at Monday night's meeting calling on Tánaiste and Employment Minister Mary Coughlan to intervene in the 10-week-old dispute between dockers and SIPTU at Dublin Port and Marine Terminals Ltd (MTL) over compulsory redundancies and changes in work conditions.
The motion – the result of separate Sinn Féin and Labour Party motions merged to ensure solidarity with the dockers – was moved by Labour Mayor Emer Costello and seconded by Sinn Féin Group Leader Cllr Larry O'Toole.
Councillors – including Fianna Fáil members - expressed their deep concern at the length and nature of the dispute. It said MTL had exacerbated the situation by obtaining High Court injunctions against protesters, trade union leaders and members of the local community.
"The company's refusal to engage in full industrial relations procedures has aggravated the situation and severely damaged trade in Dublin Port. We therefore call on the Dublin Port Company, as the landlord of the facility and provider of essential services, to use all of the power at its disposal to persuade MTL to engage meaningfully with the workers and SIPTU in order to bring the dispute to a satisfactory and speedy resolution.
"We further call on the Tánaiste and Minister for Enterprise, Trade and Employment, Ms Mary Coughlan, to ensure her department and the dispute resolution machinery of the state deploy all their resources to help achieve this objective, including ensuring that MTL complies fully with the employment law of this state."
The motion was supported by Sinn Féin, Labour Party, Fine Gael, Fianna Fáil, People Before Profit and Independent councillors.