10 September 2009 Edition
Referendum Watch ... Referendum Watch ... Referendum Watch ...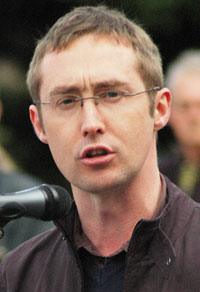 Give Pat Cox the Red Card
PAT COX has taken time off from his busy schedule as a high-powered and well-paid, Brussels-based corporate lobbyist to lead the pro-Lisbon campaign group, Ireland for Europe.
Launching their campaign in August, Pat Cox and his able assistant, UCD luminary Brigid Laffan, called on the Referendum Commission to introduce a yellow card and red card system for Lisbon Treaty liars.
Holding giant red and yellow cards for the assembled press corps, the deadly duo said:
"A yellow and red card system should be developed. Any group deliberately perpetuating falsehoods about the treaty should receive a yellow card. If they persist, they should receive a red card.
"This would not muzzle debate but would ensure that we have a debate based on fact and reasoned argument."
While the Referendum Commission has yet to embrace the Cox & Laffan brainwave, many of us on the No side have decided that, despite its source, it is a truly brilliant idea.
So let's see how the system would work on 'Ireland for Europe''s own claims on the Lisbon Treaty.

****************

ON their website, Ireland for Europe have a section titled 'What's it all about?'
In answering their own question they claim that Ireland: will keep a Commissioner; remain in control of its own tax rates; that Irish neutrality will not be affected; that there will be no common defence; and that workers' rights and public services will be valued and protected through the Charter of Fundamental Rights.
So how would Pat and Brigid's red and yellow card system apply to these claims?

****************

ON the Commissioner, Ireland for Europe would get a yellow card.
Yes, Ireland will retain a Commissioner for the next five years. However, the proposal to reduce the size of the Commission remains in the treaty. Come 2014, the smaller 18-member Commission will come into force, ending each member state's right to permanent representation on the body that initiates and writes all the laws.

****************

ON control of tax, Ireland for Europe again would get a yellow card.
The Lisbon Treaty never ended Irish control over taxation but it does make it easier for that control to end. Article 48 allows the Council, acting by unanimity, to change the existing treaties in a wide range of areas including tax policy. The crucial issue for No campaigners is that, while today such a change would also require a referendum, if Lisbon is passed, no referendum will be held.
Fine Gael and Labour have already voted for tax harmonisation in the European Parliament; Fianna Fáil clearly can't be trusted with anything, so why make it easier for these politicians to give away our control over tax policy.

****************

ON neutrality and defence, Ireland for Europe would get an extra-big red card.
The Lisbon Treaty explicitly states that the EU "will have a common defence". Article 28 then goes on to outline the broad parameters of that policy, including NATO compatibility, obligations on military capabilities and spending, defence obligations to other EU member states and significant changes to the list of permissible military operations.

****************

ON workers' rights and public services, Ireland for Europe again would get a whopper of a red card.
Article 16 gives the Commission the power to bring forward proposals to subject services, such as health and education, to the rules of competition. The Protocol on the Internal Market and Competition mandates the EU to remove 'distortions' to competition, which in plan language means collectively-agreed wage rates.
Their claim that the Charter of Fundamental Rights will enhance protection of workers directly contradicts an analysis of the pro-Lisbon Treaty Institute of European Affairs that argues the treaty "does not create any new rights" and, regarding social and economic rights, does "not give rise to direct claims for positive action".

****************

ON the basis of this score sheet – two yellows and two reds – both Pat Cox and Brigid Laffan would be sitting it out on the benches at least or sent off totally for an early shower while the rest of us get on with the business of debating the content of the Lisbon Treaty. Not such a bad idea after all.

An Phoblacht Magazine
AN PHOBLACHT MAGAZINE:
Don't miss your chance to get the second edition of the 2019 magazine, published to coincide with Easter Week
This special edition which focuses on Irish Unity, features articles by Pearse Doherty, Dr Thomas Paul and Martina Anderson.
Pearse sets out the argument for an United Ireland Economy whilst Pat Sheehan makes the case for a universally free all-island health service.
Other articles include, 'Ceist teanga in Éirinn Aontaithe', 'Getting to a new Ireland' and 'Ireland 1918-22: The people's revolution'.