3 September 2009 Edition
INTERVIEW: Jack Phelan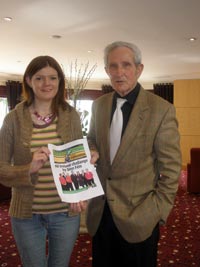 Troubles, splits and the joined-up writing
JACK PHELAN is 'well-got' in republican circles around Kilkenny. As a comrade of 25 years, Tom Kiernan says of him, "Jack was one of the very best."
Born in 1924, Jack Phelan saw hard times in Ireland. He grew up in the hungry years of the 1930s and 1940s and there was also political tension in the aftermath of the Civil War in Ireland. The 1920s were, as Jack says, the years of 'the troubles' and 'the split': terms that have haunted the Republican Movement over the almost nine decades that Jack has given to the struggle. Jack chats with ELLA O'DWYER.
JACK Phelan's story is invaluable evidence of the importance of listening, looking at and learning from the past. His conversation throws up terminology that is all too familiar  – 'troubles', 'splits' and, of course, 'political tension'. But whatever the struggle and strife, there is a clear chord running through Phelan's account – the joined-up thinking behind republicanism.
"Times were tough when I was growing up," Jack recalls. "The country was very poor back then and it was tense politically too just after the 1921 Treaty and the 'split' when the IRA divided into pro-Treaty and anti- Treatyites. Then there was the Civil War, when brother fought against brother.
"My father was a farm labourer and we were a big family: I'd five sisters and three brothers. My parents were always republican-minded but after the Civil War and the Truce the IRA had quietened down for a while."
But not for long, and in the 1930s the Republican Movement started to quietly re-emerge. It was around this time that Jack joined Sinn Féin.
"I joined Sinn Féin in 1933 and began by doing things like selling Easter Lilies. There were no jobs in the country back then so in 1940 I joined the 26-County army. It was during the Emergency [the Second World War]."
The 26-County state was neutral during the Second World War but declared an official state of emergency in 1939, including an Emergency Powers Act. This gave new powers to the Government for the duration of the Emergency, such as internment and censorship of the press.
Jack's experience in that army ironically intensified his republicanism and equipped him for the road ahead.
"I was recruited to the Commandos," Jack explains. "It was a special unit trained in every aspect of warfare and survival."   Commandos in any army were and are soldiers trained at an exceptionally high level, both physically and mentally – elite units. In Jack's Phelan's selection for the Commandos it seems to have been down to his physical fitness, his intelligence and all-round strength.
"I was always very hardy and I think that's why I was selected. The training was tough and intensive – drilling and all round training including anti-interrogation skills. It was about strength all-round. I also have a very good capacity to retain information and I learnt a lot that stayed with me afterwards," he adds, and you can guess how.
The role of the 26-County army, formed in 1922 after the Treaty, was always riddled with contradiction. It was originally formed from the pro-Treaty elements of the IRA and its first ambition was to sustain the new Free State and defeat the anti-Treaty IRA during the Civil War.
"It was very difficult for republicans like me in the Irish Army," Phelan explains, "because we were seeing IRA men being interned in places like the Tin Hut in the Curragh. I was on guard there and I could see the men walking around at the other side of the wire.

"There were soldiers from the Irish Army who were stripped of their rank and interned themselves because they were seen to be sympathetic to the IRA. There was a lot of support in the Irish Army for the IRA."
Those were tough times at the political and ideological levels for people like Jack who, for good reason, couldn't show his true colours.
"I was heart-broken at what was happening in Ireland. There were people like IRA man Richard Goss who was arrested in Longford and charged with shooting and injuring a soldier during a bank robbery. He was executed by the Free State Government in 1941. I felt sickened. I left the army in 1945 and in 1950 went to work as a technician for the then Post and Telegraphs. I worked in Monaghan and I'd often go over the border to Crossmaglen. I could see what was going on there in terms of how the people were being treated under occupation."
Then came 1969 and again 'The Troubles'.
"I used to visit Derry and again I could see what people were going through. I was continuing my republican work all along. I was arrested six times and the house raided 18 times but they never found any evidence to charge me with anything."
Jack put himself out on a limb to support the Republican Movement in more ways than one. He could, at the very least, have lost his army pension or his job in the Post and Telegraphs.
"I suppose I could have ended up losing the pension or being kicked out of my job but nobody ever had anything on me. I'd never write things down; I'd just keep them in my brain and I have good powers of retention. Like people in any organisation that is being hounded by the enemy, you learn to use your brain and that's where you kept your thoughts."
And the enemies of republicans come in more guises than one, Jack feels.
He is fond of recalling the words of a schoolteacher he very much admired: 'History is lies agreed upon.'
"Look at the newspapers over the last decades. Who has been in control of them – 'Sir' Anthony Reilly? With a man who'd accept a British title in charge of media, is it any wonder that there would be so much censorship of the story of republicanism from the 1920s to the present day?"
In terms of republicanism Jack Phelan seems to have done 'the joined-up writing'.
"Along the way I studied the Brits' tactics and all around the world it was about 'divide and conquer'. In some cases, splits are about personal ego and you have to ignore that. Some will use politics – even republicanism – to their own advantage. Splits happen – but remember British Intelligence is still in Ireland and they're about splitting tribe against tribe.
"For Sinn Féin to progress we need to get more young people on board – not mouthers, hangers-on or people on ego trips. We need educated young people with vision."
Jack was very involved in Kathleen Funchion's EU and local election campaigns this year when Kathleen took the first Kilkenny Borough Council since the 1920s: the decade that Jack Phelan was born. It was a nice touch and one of the better ways in which Irish history repeated itself.