3 September 2009 Edition
The Mitchel McLaughlin Column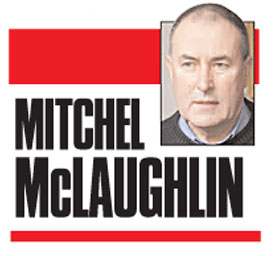 Stop the rising tide of sectarianism
POLITICS on the island of Ireland have been transformed and the process of change will undoubtedly continue to deliver for citizens across the island in the years ahead. But it is now 15 years since the first IRA cessation and 11 years since the Good Friday Agreement.
There have been many attacks on Orange halls and property belonging to unionist organisations and I totally condemn such attacks. They bring disgrace on the entire nationalist community and they must stop. We must continue in our efforts to stop attacks on property, no matter where it occurs.
Yet there is growing evidence that some within unionism are still wedded to violent opposition to change. Ever since the IRA cessation and former Ulster Unionist Party leader James Molyneaux's famous statement that it represented "the greatest threat to the Union since partition" we have witnessed ongoing violent attacks on nationalists and their property.
We can document regular attacks involving unionist paramilitaries, such as the Holy Cross School blockade in Ardoyne, the Thomas Devlin murder, Paul McCauley attacked in Derry by a UDA mob, and the murder of Kevin McDaid in Coleraine, all motivated by a raw sectarian opposition to the change promised by the Good Friday Agreement.
The most worrying aspect of the continued use of violence to prevent or inhibit change is that unionist politicians do not seem to have learned the lessons of ignoring violence originating within their own constituency.
As a result of a similar refusal to introduce reform by the Stormont regime in 1969, and its violent suppression of change, society descended into almost 30 years of conflict
The Good Friday Agreement emerged out of these decades of intolerance, injustice and conflict. It marked an historic and defining point of change in the history and future development of this island. Politics in the North until the Good Friday Agreement was one of discrimination, domination and exclusion of nationalists.
Most unionists now accept that those days are gone, never to return, but few – if any – of their political leaders will accept this fact by publicly acknowledging that the only way to build a peaceful and prosperous future is through partnership grounded in equality and mutual respect.
There is no justification for sectarianism in any form, no matter where it emanates from. But it galls me to hear prominent unionist politicians attempting to justify clearly sectarian attacks as some kind of 'retaliation'. Retaliation for what?
That attitude only provides tacit justification of sectarian violence. Let there be no ambiguity on this issue: sectarianism is a cancer that will devour our society unless political and religious representatives across the divide act with one voice to excise it.
I appeal to progressive unionist leaders to assert themselves and not allow individuals working to a wreckers' charter to misrepresent the views of the majority of unionists.
By any objective analysis, the overwhelming majority of sectarian assaults, arson attacks and provocative marches emanate from within the unionist community. It is time, indeed long past time, for the leadership of unionism to step up to the plate. It is, as never before, a time for leadership to halt the tide of sectarianism.
I can assure unionists that Sinn Féin will continue to strive to marginalise those within our society who attempt to fan the flames of bigotry and sectarianism.