13 August 2009 Edition
THE JULIA CARNEY COLUMN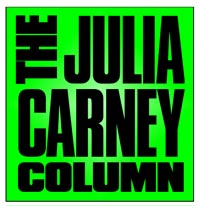 Green shirts, gay marriage and Garda wages
I'M beginning to wonder if the Irish Daily Star's John Coulter is real. I mean I know he's a journalist lecturer in Belfast, and Lord help those poor sods in his class, but you do begin to wonder. 
On Monday, he gave us his suggested solution to the crisis that the gloating media believe Sinn Féin is in.
"Sinn Féin needs to relaunch itself as an ultra right-wing nationalist party under the banner – Ireland for the Irish and nobody else! Adams should launch the Greenshirts – a radical right-wing youth movement, which instils disciplined Irish patriotic values, folklore and culture into its ranks."
So, that would be a modern Hitler Youth, rounding up the Jews and the immigrants, bashing the odd Pole and hunting unmarried mothers through housing estates.
Coulter's argument is that left-wing politics aren't fashionable anymore. Leaving aside the idea that people adopt political beliefs based on what's cool has our journalism lecturer been reading a paper recently? Right wing economic thinking just ran into the brick wall of solid reality. Tens of thousands are being put out of work and the economy is in severe trouble.
Left-wing solutions like nationalisation, economic democracy, investment in infrastructure and public services, job retention and the like are at the centre of the political debate and even being embraced by some of the privatisation fanatics of the '90s.
Still, maybe John's a sports journalist at heart but at least he's willing to engage.
"If you want a radical right-wing Presbyterian to explain this much-needed new Irish patriotism to the unfaithful, give me a shout at my email, [email protected]"
What a good idea.


In Wednesday's Independent, Kevin Myers intervenes in the civil partnership debate.
"As for same-sex marriages, I believe in binding unions, and so I'm inclined to accept a legal "marriage" for homosexual couples, provided if it doesn't confer equal rights to adoption. But of course, the rights lobby would soon be calling for equality of adoption..."
Oh Lordy Massa Myers. You'll let gay couples get "married" (love the inverted commas). We're so very grateful. 
But why not let gay couples adopt? Myers doesn't explain but the rest of the piece is about how the state should not let 'values' cloud the judgement when making decisions. Here's the thing. Gay people can already adopt. I know ones who have. There's nothing to stop a gay man or a gay woman adopting a child.
They just can't adopt one as part of a couple. This has massive implications for the rights of the child who will not have a secure legal relationship with one of their parents so if the other dies, he stands to lose both parents.
So isn't Myers letting one of his values – an innate homophobia, colour his own decision making?


"Pay more or we'll end up in the pay of criminals." When I saw the screaming headline on the front page of Tuesday's Daily Mail I initially thought that backbench Fianna Fáil TDs had finally lost the run of themselves. Turns out though the Mail was, in typically forthright style, setting about the Garda Representative Association.
The paper was reporting on comments GRA spokesperson Paul Browne made on Newstalk where, complaining about generally low Garda wages, added, "It has to be said, of course, one would be open to criminal elements attempting to get at young members of An Garda Síochána because of the financial straits some of them find themselves in."
So, not quite the implied threat the headline suggested. More in the shape of a warning of what could happen. Now this column's the last place in the world you'd normally find anyone defending Gardaí who seem to spend so much time on the Grand Parade in Cork sending text messages but the GRA has a point. Low-paid cops dealing with obscenely wealthy drug dealers and crooked property developers are going to be open to temptation. Saying it doesn't mean they're going to turn coat.
Still, even if they're cops, they're still (sort of) a union and the Mail loathes unions.
The editorial that day was a model of Mail restraint.
Browne is accused of insulting "honest, hard-working citizens" and committing an "unpardonable calumny" (the worst kind of calumny). The editorial writer goes on to demand that, "Politicians of all parties should refuse to be bullied by a union prepared to make veiled threats of such a serious nature".
I suspect the Sinn Féin Dáil team will back the Mail on this one.


Finally, we're continuing this column's occasional series in complimenting good journalism when it appears. The Sunday Tribune has now exposed wanton abuse of expenses, government jets and first class hotels by Ceann Comhairle and Fianna Fáil TD John O'Donoghue on its front page for three consecutive weeks. Great stuff.

An Phoblacht Magazine
AN PHOBLACHT MAGAZINE:
Don't miss your chance to get the second edition of the 2019 magazine, published to coincide with Easter Week
This special edition which focuses on Irish Unity, features articles by Pearse Doherty, Dr Thomas Paul and Martina Anderson.
Pearse sets out the argument for an United Ireland Economy whilst Pat Sheehan makes the case for a universally free all-island health service.
Other articles include, 'Ceist teanga in Éirinn Aontaithe', 'Getting to a new Ireland' and 'Ireland 1918-22: The people's revolution'.