13 August 2009 Edition
Police tactics accused over Apprentice Boys march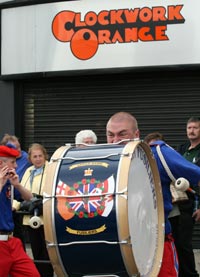 THE PSNI in Derry have come in for criticism over their deployment of  Tactical Support Group (TSG) units in the city during Saturday's Relief of Derry parade by the Apprentice Boys.
The units were accused by Sinn Féin Assembly member Raymond McCartney of "aggressive policing" as minor trouble occurred in the city after the Apprentice Boys' march.
Limited trouble was seen in the Fahan Street/Butcher Street area, close to the city centre, as the final leg of the loyalist march drew to a close at the Apprentice Boys HQ in the Memorial Hall near Derry's Walls.
Tension had been high in both Belfast and Derry in the run-up to the Relief of Derry parade.
Earlier on Saturday, Apprentice Boys paraded through Ardoyne as nationalist residents held a peaceful and dignified protest.
Following the rioting that took place on Monday 13 July, after loyalists marched back from their Twelfth parades, local residents and political leaders were fearful of a similar outbreak of trouble but the loyalist march passed by peacefully.
The heavy PSNI presence in the area around Ardoyne, which included TSG units and water cannon being held in reserve on Tennent Street, only added to the apprehension that existed.
In Derry itself, the Apprentice Boys parade takes place in three parts. In the morning, local Apprentice Boys attend a church service before proceeding to the Cenotaph in the Diamond, where they lay wreaths in honour of the dead of the British Army.
Later, in the afternoon, the main parade, which entails up to 10,000 marchers and 130 bands, many of them with links to loyalist paramilitary groups, passes through the city centre before dispersing in the Waterside.
However, it is the return leg of the march, taking place as it does at about 6pm, when the so-called local lodges return to the Memorial Hall, in the shadow of the city's historic walls, where the real problem lies.
CURFEW
PSNI units on duty around the city's Diamond area stop and search nationalist youths while loyalists are allowed to drink and shout sectarian abuse.
Local traders also complain at the way the commercial life of Derry is strangled for the whole day as the PSNI's tactics effectively close the city centre down.
According to Raymond McCartney:
"It is this return leg of the parade that needs to be looked at.
"Sinn Féin accepts that some of the nationalist youths involved in the trouble see it as 'recreational rioting' which in reality hurts people in the Fahan Street more than anyone else. However, the PSNI need to look at their tactics, especially the use of the TSG, and the Parades Commission need to assess their decision to allow the return leg of the parade.
"Effectively, Derry ended up being under police curfew for over 12 hours on Saturday creating rather than preventing trouble."