13 August 2009 Edition
Tyrone MPs call for big turnout to commemorate 1981 Hunger Strike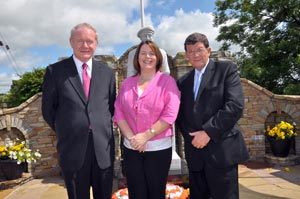 TYRONE republicans were busy this week in their final preparations for the National Hunger Strike rally which will be held for the first time in the county on this coming Sunday 16 August.
The march is the culmination of a weekend of events that includes a Friday night Torchlight procession in Dungannon, a panel discussion, a number of events organised by Ógra Shinn Féin and an exhibition.
Several thousand people are expected for the parade which will mark the 28th anniversary of the 1981 Hunger Strike. The commemoration will also remember Tyrone Hunger Striker, Seán McCaughey who died on Hunger Strike in the 1940s as well as Michael Gaughan and Frank Stagg who died in prisons in England in the 1970s.
The Tyrone Hunger Strike commemoration committee this week has also launched a website detailing events throughout the weekend as well as providing an insight into the 1981 Hunger Strike.
Speaking ahead of the parade Chairman of the Tyrone commemoration committee, Sean Begley said:
"Final preparations are well underway for the mobilisation in Galbally on Sunday. As well as a huge interest throughout Ireland we will also be hosting a number of international guests at the parade on Sunday including Basques and Catalans. Each year the march attracts groups from as far away as Scotland, England, Europe and North America. There will also be buses from various locations throughout Tyrone and local people are asked to avail of these services."
Calling for a large mobilisation on Sunday were the three Sinn Féin MPs representing County Tyrone; Martin McGuinness, Michelle Gildernew and Pat Doherty.
In a joint statement the three MPs said:
"We are calling for people not only from County Tyrone but from across Ireland to make an effort to commemorate the sacrifices made and to celebrate the lives of the hunger strikers.
"We appeal to all those who recognise the contribution of the hunger strikers to the cause of Irish freedom to come to Galbally this Sunday. We would especially encourage ex-POWs to attend as a good opportunity to meet up with former comrades and show solidarity with the comrades who are no longer with us.
"We also encourage the republican and indeed the wider community to take part in many of the other events being organised throughout County Tyrone, these include processions, panel discussions, exhibitions and events coinciding with Na Fianna Éireann's centenary celebrations."
The Hunger Strike commemorative events will commence on Friday 14 August and further information can be obtained by logging on to
www.tyrone2009.com