13 August 2009 Edition
The Thomas Cook affair - 'Sometimes you just have to stand up and be counted'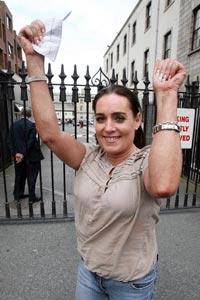 BY ELLA O'DWYER
THE lives of staff at the Thomas Cook travel company in Dublin were thrown into disarray two weeks ago when management told them that they were to be sacked immediately.
The Thomas Cook branches at Grafton Street and North Earl Street weren't due to be closed for another month but, in the height of arrogance, the company decided to cut its losses and shut up shop ahead of schedule. To add insult to injury, the redundancies came after Thomas Cook CEO Manny Fontenla-Novoa handed himself a very handsome bonus of €7 million and a 34% pay rise last year. The redundancy packages offered to the staff Thomas Cook and Manny were sacking would cost the company just €600,000.
So, on Friday 31 July, when the staff were told they were to pack up and leave their jobs, they refused. Spontaneously, they locked themselves into their offices throughout a bank holiday weekend until the early hours of Tuesday morning when gardaí broke in and arrested them on foot of a High Court injunction.
Wendy Aldren was a senior manager for the company.
"The atmosphere was a bit surreal over the days from the Friday until Tuesday," Wendy tells An Phoblacht, looking back at the workers' occupation of the worldwide travel giant's flagship premises on Dublin's busy Grafton Street.
"There was a myriad of emotions, mostly upbeat: excitement and hope. But sometimes people were frightened and, of course, concerned for family members at home.
"It wasn't a pre-planned sit-it. When they came and told us to pack our things and go, we instantly decided to refuse and we went to our offices and locked ourselves in. Some of the staff who hadn't been at work that day came in to join us. One worker had just lost his mother, he came in. Another one was due to travel to Australia and she came in too.
"It was a bank holiday weekend and everyone had things planned. We had to set about getting childcare and contact with our families."
For the staff involved the episode was harrowing enough, living for five days in cramped conditions away from their families. Two of the staff were pregnant, with one woman going into labour as the gardaí arrived. It was a first for the protesters in more ways than one – mass arrests, held in police cells, dragged before the state's High Court and the whole ordeal of taking on the millionaire bosses of a household name in the worldwide travel industry.
At a special sitting of the High Court on the bank holiday Monday, a court order was made directing the staff to vacate the premises but the workers refused and remained in the building until 5am the following Tuesday, when gardaí smashed into the building and arrested them.
"There were about a hundred gardaí outside the office on the Tuesday morning," Wendy recalls, "and the surrounding streets were barricaded off. It was like they were getting ready for a riot.
"About 10 or 15 of them smashed their way into the building and told us we were to be taken to the Bridewell. We left in a peaceful and orderly way. We were taken to the Bridewell, processed and put into cells. There were 28 of us in all. We were aged between 19 and 40.
"The girls were all together in one cell and the men were in the cell beside us. We were travel agents who send people on holiday and here we were in the Bridewell. I must say the warders were fantastic. They were very sympathetic to our plight."
At a court hearing that day they were released when the judge accepted assurances that they were willing to purge the contempt by agreeing not to reoccupy the Thomas Cook premises. The company had agreed to talk to the workers' union representatives, the Transport Salaried Staffs Association.
"At 2pm we were taken to the High Court. There was a huge crowd of supporters and media outside. The support we got was terrific.
"I was a bit concerned that the judge might get annoyed by all that and that things could go wrong for us. But he was measured in his response. He had to be seen to uphold the law. But it was a long wait and as the time went by I was starting to think that it was just possible we could end up in jail. None of us had ever been in a courtroom before, never mind a jail.
"We were holding hands, waiting for the verdict. Some of the girls were crying. The gardaí were looking at us – they seemed to feel sorry for us."
Finally, the result was announced.
"We had purged the contempt, meaning we agreed not to occupy the Thomas Cook premises again and the judge didn't inflict any penalty.
"When we got out of the courtroom the reception was amazing from supporters and the media. On Wednesday, a union rep went to London for talks with the Thomas Cook company and we are still awaiting an outcome on that."
Among the issues they are contesting is the redundancy package.
"The redundancies that we are being offered amount to five weeks' pay for every year we worked. Some people have said that's not bad as some people who have been let go from other jobs have gotten as little as two weeks' pay per year. But it's not just about the redundancy. It's about the whole way we were treated – young girls being bullied and intimidated in an attempt to make them go quietly."
Like her colleagues, and indeed the thousands of others who have found themselves suddenly unemployed of late, Wendy's life has been flung up in the air.
"It's been a life-changing experience. I have a young child and a mortgage, like so many of the others. People have said to me that I was foolish and that if I'd sided with the management of Thomas Cook I'd have been looked after. I've been with the company for 17 years. We have a great team of workers and I wasn't going to let them down."
The company had apparently been a good employer in the past until greed set in.
"In fact, the Thomas Cook company had been very family-friendly and a great place to work," Wendy affirms. "I've travelled the world, which I couldn't have done otherwise. But things changed and greed set in and money was more important to Thomas Cook than people so when the recession hit Ireland, Thomas Cook bailed out."
Though the whole episode has thrown a cloud over Wendy's life, she is proud of herself and her colleagues.
"It's the end of an era for me personally after all those years working with Thomas Cook. But I believe that my team and myself were right to take the step we did. Sometimes you just have to stand up and be counted. I'm very proud of my team and myself."
And so are many workers and families, in Ireland and beyond.
An Phoblacht Magazine
AN PHOBLACHT MAGAZINE:
Don't miss your chance to get the second edition of the 2019 magazine, published to coincide with Easter Week
This special edition which focuses on Irish Unity, features articles by Pearse Doherty, Dr Thomas Paul and Martina Anderson.
Pearse sets out the argument for an United Ireland Economy whilst Pat Sheehan makes the case for a universally free all-island health service.
Other articles include, 'Ceist teanga in Éirinn Aontaithe', 'Getting to a new Ireland' and 'Ireland 1918-22: The people's revolution'.