13 August 2009 Edition
Assembly team reshuffle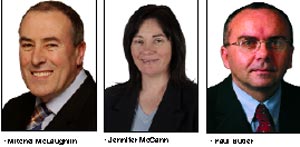 MITCHEL McLaughlin is standing down as chair of the Assembly Finance and Personnel Committee as part of a reshuffle announced by Sinn Féin last Thursday, 6 August, but he stays on as the party's spokesperson on Economy and Finance.
He will be replaced as chair by West Belfast MLA Jennifer McCann.
Chief Whip Carál Ní Chuilín explained:
"Mitchel will now be able to enter and shape the economic debate without the being the chair of a committee restricting his input.
"He will continue to bring a grassroots perspective to the work of the Finance Committee and a realisation that Budget decisions in the Assembly have a direct effect on the budget of every family household."
LAGAN VALLEY MLA
As a result of her move to Finance, Jennifer McCann will be stepping down as vice-chair of the Enterprise, Trade and Investment Committee, to be replaced by Lagan Valley MLA Paul Butler.
His move will mean him standing down as a member of the Assembly commission, to be replaced in turn by West Tyrone MLA Pat Doherty, who will continue with Sinn Féin's equality agenda within the commission.
Carál Ní Chuilín said:
"The reshuffle will be confirmed at the first available meeting of the Assembly on its return in September and will strengthen Sinn Féin's ability to deliver change across a wide range of socio-economic issues in the months and years ahead."