13 August 2009 Edition
Sinn Féin to launch major campaign against Government cuts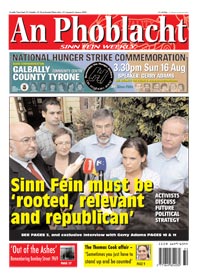 Navan meeting: Activists gather for key discussions
MONDAY saw Sinn Féin activists from across Ireland gather in Navan, County Meath, for a key political meeting. Those attending included TDs, MPs, MLAs councillors, regional organisers and activists as well as members of the party's ruling Ard Chomhairle.
The Navan get-together was was the culmination of a series of party meetings in recent weeks which discussed this year's local and EU elections, the upcoming Lisbon referendum and the future political strategy of the party.
Speaking afterwards, party president Gerry Adams said:
"Activists today put forward proposals on a range of pressing issues.
"We discussed Sinn Féin's ongoing efforts to bring forward outstanding aspects of the Good Friday and St Andrew's agreements, such as the transfer of policing and justice powers and an Irish Language Act for the North.

"The meeting endorsed the Ard Chomhairle's decision to oppose the Lisbon Treaty in the upcoming referendum.
"The political establishment in this state has never accepted the decision of voters to reject the Lisbon Treaty last year. The Government, assisted by Fine Gael and Labour, are being untruthful by saying that voters' concerns on the treaty have been met.
"Sinn Féin will also be vigorously opposing the National Asset Management Agency (NAMA) legislation when it comes before the Oireachtas next month.  This is not the way to sort out the banks and every euro of public money spent on the banks is a euro taken away from education, from health, from social welfare and from job creation.
"Sinn Féin will be supporting local communities fighting to keep resources for all these essential entitlements."

EDUCATION CUTS
Gerry Adams declared that Sinn Féin will focus particularly on the Government's cuts in education in the autumn.
"Cutting education is the worst thing the Government could do. It will have disastrous long-term consequences for children and for the economy.  Sinn Féin is committed to opposing this. 
"December's Budget is on course to implement savage cuts to public services and social protections. The McCarthy Report gave some sense of what can be expected. This is the wrong approach.
"Sinn Féin believes that there is massive popular opposition to these punitive measures.  Our party is committed to playing a leadership role in the development of an alternative which will usher in politics based on citizens' rights and in complete contrast to anti-people policies of the Government and its mirror reflection in Fine Gael."

Sinn Féin must be rooted, relevant and republican
AN PHOBLACHT EXCLUSIVE INTERVIEW – Gerry Adams on the Reconquest of Ireland

BY ROBBIE SMYTH
 

FOR many republicans today, including voters, members, full-time activists and a large number of the party's elected representatives, their introduction to Sinn Féin republicanism came through Gerry Adams.
Whether it was the 1970s Brownie articles amongst which An Phoblacht and Republican News, the early books in which The Politics of Irish Freedom stands out, or the speeches at public meetings, commemorations and ard fheiseanna, Gerry Adams became the defining touchstone of a political movement that was, and still is, transforming Ireland.
Then there were the TV interviews which were too infrequent in the1980s and early 90s but which in the Peace Process years blossomed into what was at times the only radical left republican voice on the Irish airwaves.
This week, Sinn Féin members, North and South, met in Navan, County Meath. The grouping, a cross-section of MPs, TDs, MLAs, councillors and local activists as well as ard chomhairle members, discussed the recent local and EU elections, the upcoming second Lisbon referendum and the future political strategy of the party.
The main debate, chaired by Assembly MLA and Sinn Féin's first elected councillor in Belfast in1983, Alex Maskey, was opened and closed by Gerry Adams who, as he has done so many times in the past, aptly and succinctly caught the mood of the room.
With over 100 Sinn Féin members that had for more than four hours engaged in friendly, robust and serious debate it was an impressive feat. When Adams told the room that the difference between Sinn Féin's politics and motivation and those of many other parties was that "some people do things to get elected and we get elected to do things" he had nailed a key theme of the day.
At the opening of the meeting, Adams had told party representatives that what Sinn Féin is about is "the reconquest of Ireland for the Irish people, not about elections for the sake of them, but to effect real positive change in the lives of citizens, nothing more and nothing less".
Adams also echoed and endorsed the wisdom of Sinn Féin's leader in Leinster House, Caoimhghín Ó Caoláin, who had said the secret of electoral success is a simple formula: "We need to be rooted in our communities, relevant in what we do and republican in our outlook and motivation."
This was the theme of the day as party activists discussed not just recent elections and campaigns but looked forward to Ireland, North and South, in five and ten years' time and strategised on the role Sinn Féin would play over the next decades in Irish political life.
An Phoblacht spoke exclusively to Gerry Adams after the meeting and got him to unwrap a bit more of his vision for the next phase of republican campaigning and politics while also teasing out some of the themes of the day and his views on the wider Irish political environment and Sinn Féin's contribution to it.
Interviewing the Sinn Féin president is not daunting because of his stature or the extraordinary political achievements he and many others have been party to; it is daunting because Gerry Adams has a lot to say about a lot of things and he moves back and forth between ideas and points. While the hapless interviewer is still trying to digest the gravity of one comment, he throws in three or four others!
But there was one critical theme running throughout our interview with Gerry Adams, echoed in his two brief contributions to the Navan meeting but also in his recent articles and blogs.
In short, Gerry Adams believes that "there is an urgent need for building opposition to the Coalition Government, to the conservative forces in the state". Why? "Because if they are left to do what they want, they will destroy the social fabric of Irish society." Sinn Féin Adams says, "needs to give people commonsense, practical solutions, with practical examples".
This point had been a recurring theme of the meeting with Munster's Paul O'Connor, Toiréasa Ferris, David Cullinane, Martin McGuinness and others all echoing this key point.
Looking at the wider political environment and the impact of the economic downturn on everyday political allegiances, Adams talked about the difficulties of persuading people of the veracity of the Sinn Féin message in the current political climate.
"People won't necessarily move to the Left," said Adams, who believes that Sinn Féin must convince the public that Fine Gael "would not make a blind bit of difference in government".
The Sinn Féin leader said:
"We need to create the conditions for a genuine debate about a new way forward, rooted in the core values of egalitarianism and citizens' rights."
The key thing to remember and "sometimes remind ourselves", he said, is that "we have credibility on core issues".
Adams said that, in the course of his work and that of many of the party's other public faces, "We go to speak at events that hold together the social solidarity of society." He cited examples of the voluntary and community sectors, the environment, sports clubs, and schools across rural and urban environments where Sinn Féin activists and elected representatives are there playing key roles.
Throughout our interview Adams turned repeatedly to this key theme "that when that social solidarity is being undermined, Sinn Féin activists need to be there" and this is a key arena for the party.
Turning to the ongoing challenge of becoming a more effective and stronger voice in 26-County politics, Adams said:
"Since 1927, the politics of the state has been dominated by two big parties. It is only now that Sinn Féin is seriously building an electoral strategy which is made the more difficult by the fact that we are working in a limited space, in that people are often giving a verdict on a government rather than endorsing a Sinn Féin policy platform."
"Sinn Féin had been successful at electoral interventions, such as was the case in the 1950s [when republicans elected two prisoners and four TDs as MPs] and the Hunger Strikes but that does not constitute an electoral strategy."
He admitted that one of his first electoral lessons had been to understand "the difference between short-term electoral interventions and a long-term electoral strategy".
"It is not just about a campaign for votes. It is about taking a stand alongside communities. There is a need for people to defend citizens' rights, to stand up for disadvantaged communities with practical alternatives based on a different set of core values."
Throughout Adams's interview, and also in the context of the meeting, there was an interesting play on James Connolly's The Reconquest of Ireland strategy and An Phoblacht asked Gerry Adams about this.
His response was to focus on how the Fenians made the politics of Tone relevant to their era and built through the Land League a mass political movement. The success of the 1916 and 1918 republicans was that, again, "they made it relevant to their time" and this is the challenge for Sinn Féin today. "I believe that we need to find a straightforward way of being confident in republicanism and articulating that to the citizen."
There, is according to Adams, "a need for a realignment of politics" and part of the problem is that within the political establishment and wider society "those who engage in rhetorical republicanism and verbalised republicanism understand the threat of genuine republicanism" and have sought to actively marginalise Sinn Féin.
A related issue highlighted by Adams was the role of the Sinn Féin membership in future years.
"It is a big thing to be an activist but people don't cease to be republicans if they are not full-time members." One solution is to have a wider criteria for membership of and participation in the party such as is found in the GAA or the credit unions. These are organisations, he said, that "have the ability to pull together in large numbers when the occasion demanded it" but also had a wider understanding of what constituted a member, and that not everyone was "a super-activist".
Adams believes that we have to be active now in opposing Coalition Government policies of spending cutbacks and service withdrawals because "good solid campaigning will defend people from the worst excesses of the current government".
One common theme arising from the meeting and echoed in our interview with Gerry Adams was the long-term nature of the process that Sinn Féin is involved in. There was rightly much discussion about the recent elections at this week's activists' meeting but also a lot of focus was on the next ten years and much further beyond.
Adams said, both at the wider meeting and in the An Phoblacht interview, that the nature of partition meant that the focus of republican politics was mostly on the North for the past 40 years, "But now we are in a different mode and face a new challenge."
Adams cited the growth of Sinn Féin in Belfast from one councillor in 1983 to being in the position it is now as the most dynamic party in the city with double-figure representation as well as many MLAs and an MP. The same was equally true of Cavan/Monaghan and Kerry North, where the party grew from small beginnings. Adams said that this was political and electoral growth that "took years to achieve". Building a stronger Sinn Féin in Dublin or any other constituency will be a long-term challenge.
It was clear in the meeting that there is considerable debate within the party on what happens next. When An Phoblacht questioned Adams responded:
"We have a very strong history of debate and dissent within the party which An Phoblacht has always been a part of. It would be an abdication of responsibility if we didn't discuss policy and strategy."
Adams pointed out that Sinn Féin was the only nationalist party to have had a debate on the Good Friday Agreement and vote on it. And, similarly, the party has had robust and difficult debates over the last 30 years on federalism, abstentionism, developing an electoral strategy, the Peace Process and more recently on policing. Current debates and discussion are following a well-established trend within republicanism.
Adams said at the wider meeting:
"We have to have debates that are relevant to people outside the party. We must be advocates of change who will change the lives of citizens on this island."
Pressed on this in the An Phoblact interview, Gerry Adams broadened out the point:
"We have to do it, not just say it. We need to get in there and deliver."
Earlier, Adams had also talked of the need to build the party locally, returning to Caoimhghín Ó Caoláin's theme of being rooted in your community and relevant to them. Adams echoed this, saying:
"It has to be happening locally and that leadership has to happen collectively at this level, whether people are organisers, speakers or fund-raisers, it has to be a joined-up approach.
"There has been a huge job of work done in republican politics over the last 30 years. It is unprecedented."
Focusing on this next phase, Adams said:
"We know what we want to do."
In terms of the immediate future path, the activists' meeting had dwelt on the coming second Lisbon referendum and the possibility of a by-election in Donegal. Asked for a final word on this, Adams said:
"We have to fight Lisbon. It was a bad treaty and it is still is a bad treaty."
Also, admitting that the quip was not originally his, but that he was appropriating it anyway, Adams ended:
"Would you buy a second-hand treaty from this government?"