6 August 2009 Edition
1981 Hunger Strike talk set for Strule Arts Centre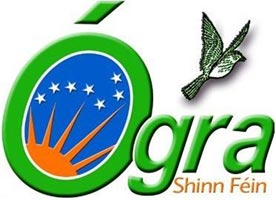 ÓGRA Shinn Féin have announced plans for a weekend of events in Tyrone from 14 to 16 August. The weekend of events will coincide with the National Hunger Strike Commemorative Weekend being hosted in Tyrone.
Headlining the Ógra weekend of events will be a talk on the 1981 Hunger Strike in the Strule Arts Centre in Omagh on Friday 14 August at 8pm. Amongst the speakers addressing the event will be 1980 Hunger Striker Raymond McCartney, West Tyrone MP Pat Doherty and Belfast republican Eibhlín Glenholmes.
The panellists will address the talk from a personal perspective, talking about their roles and emotions at that time and how they feel 28 years on.
This will be particularly intimate as Eibhlín was a close friend of Bobby Sands, and Raymond was on hunger strike for 53 days during the 1980 Hunger Strike.
Spokesperson for the 1981 Youth Committee, Kerry McColgan, said Ógra will use the weekend to educate the public, especially young people on the 1981 Hunger Strike, a turning point and catalyst in recent Irish history:
"The talk in the Strule Arts Centre will kick-start a weekend of events which will include a republican tour of Tyrone, various talks and debates as well as a dinner dance marking the 100th anniversary of the foundation of Fianna Éireann. The weekend of events will culminate with our participation in the National Hunger Strike Commemoration on Sunday.
"We urge any local people who may be interested in coming along to the talk to do so. The talk will commence at 8pm and entry is free."

• Anyone interested in finding out more can contact [email protected] or call 07885569940.