6 August 2009 Edition
Important meeting will see Sinn Féin activists plan the way ahead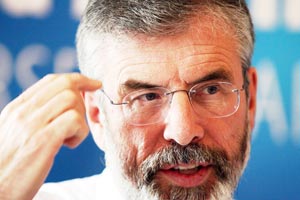 Speaking to An Phoblacht in an advance of a meeting next week involving Sinn Féin activists from across the country, known as the Ard Chomhairle-Plus, Sinn Féin President Gerry Adams emphasised the importance and significance of the gathering for the party's ongoing process of planning to meet current political challenges and opportunities.
"The party has incorporated into our work ethic a review process where the Ard Chomhairle and a representative raft of leadership come together a few times each year to review the current situation, to assess our strategic, political and oranisational progress and to get consensus on whatever the meeting thinks are the pertinent issues and then set out a programme of work until the next meeting, where we repeat that exercise. 
DEBATE
"This is not a one-off meeting but is part of a series of meetings in the process of advancing towards our strategic and political objectives", Adams said.
He added that he expected a good attendance explaining:
"The current debate within the party will obviously feature as a main item. The party's approach to the upcoming Lisbon Treaty referendum and a review of the European elections North and South and the Local Government elections in the 26 Counties will obviously also feature."
On the political significance of next Monday's meeting the Sinn Féin President said:
"It is an important meeting. There have been discussions at every level of the party – cumann, comhairle ceanntair, cúige. Out of this meeting will come a consensus, which will be brought to the Ard Chomhairle meeting in September subject to another Ard Chomhairle-plus in October.
"It is a meeting at which activists will have the opportunity to put forward their proposals on contemporary issues. We will also prepare for what looks like being a winter of discontent. A bad government in Dublin is set on rewarding its cronies in the financial institutions while targeting everyone else.
"Sinn Féin has work to do to defend the rights of citizens and to oppose punitive government policies and measures.
"There is also another Lisbon Treaty referendum. The party will decide on its formal approach to this next Monday. We will have to deliver all of this against the background of ongoing work in the North and in the all-Ireland institutions to bring forward outstanding aspects of the Good Friday and St Andrews Agreements, such as the transfer of policing and justice powers and Acht na Gaeilge and other important elements."
The Ard Chomhairle-Plus meeting takes place in Navan on Monday, 10 August.