6 August 2009 Edition
'What crime did the Thomas Cook workers commit?'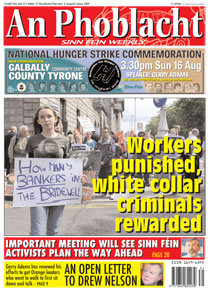 Sinn Féin TD Aengus Ó Snodaigh on the police and court action
THE police and court action on behalf of travel giant Thomas Cook against ordinary working families taking a stand to save their jobs has appalled the public. It led Sinn Féin TD Aengus Ó Snodaigh to angrily highlight how "the distorted priorities of the Irish judiciary and the Garda Siochána speak volumes for how this country has gotten into such deep recession".
Deputy Ó Snodaigh asked what crime the Thomas Cook workers had committed.
"Where was the judiciary when the Irish banks were shamelessly engaged in reckless lending practices, when loans were hidden, when creative accountancy hid the real state of the Irish financial sector from the taxpayer who is set to pick up the tab?
"White-collar crime goes unpunished in this state; in fact, it goes rewarded as we have seen with the release of the NAMA legislation last week. Yet ordinary workers are being held to account in front of a High Court judge for trying to secure a fair and equitable redundancy deal for themselves.
"When more than 150 officers from Pearse Street Garda station broke down the door of the Thomas Cook premises on Grafton Street after 5am on Tuesday morning, the failings of the Irish justice system could not have been any more obvious.
"Mr Justice Peart ordered their arrest when they failed to vacate the premises following a court order issued on Saturday. What crime did they commit? What injustice did these ordinary people bring upon the Irish state? Did they engage in reckless lending practices, using bank deposits to play in a global banking casino? No! These ordinary workers were standing up for their rights; their right to a decent redundancy package of eight weeks per each year of service.
"The distorted priorities of the Irish judiciary and An Garda Siochána speak volumes for how this country has gotten into such deep recession: punish the ordinary worker to please the profiteers.
"Actions speak louder than words and the sight of a pregnant worker being led to a Garda van after having tried to secure a sufficient remuneration for herself gives us an indication of the actions that ail our country.
"Despite the banking sector's legacy of reckless lending that has driven us into a recession, not a single government minister or banking executive has been held to account. Yet we arrest a pregnant woman for defending her rights.
"It's something that all members of the Oireachtas in this particular case and elected representatives across Ireland should have a long-hard think about."
Widespread support for workplace occupation

BY BRENDAN KERR


THE five-day occupation of Dublin's oldest travel office by staff unceremoniously sacked last week ended on Tuesday. Union representatives from Ireland are meeting with the previously unyielding and arrogant giant Thomas Cook company in London about enhanced redundancy packages as we go to press.
The workers' occupation  – supported vigorously by enthusiastic Dublin Sinn Féin activists – began last week when Thomas Cook announced it was closing its shops in Grafton Street and North Earl Street a month ahead of schedule with the loss of 70 jobs. Appalled by the high-handed action by a multinational company boasting that it is "the world's best-known name in travel", and what Dublin Sinn Féin described as "dismal" redundancy packages, almost 30 workers and a handful of family and supporters took a stand and occupied the company's flagship, high-profile premises on the prestigious Grafton Street, opposite Trinity College Dublin.
Sinn Féin pointed out:
"Thomas Cook CEO Manny Fontenla-Novoa last year paid himself a handsome bonus of a mere £7,000,000  – seven million pounds! The Thomas Cook workers are seeking a lot less."
The sit-in was supported by protesters' families, the public and a range of left-wing groups as well as the active trade union movement, including the workers' union, the Transport Salaried Staffs' Association. Prominent Sinn Féin members in Dublin who responded to the workers' appeals for support were TD Aengus Ó Snodaigh and Dublin City Cllrs Dessie Ellis, Larry O'Toole and Críona Ní Dhálaigh.

GARDAÍ SMASH THEIR WAY IN
Enforcing a High Court injunction ordering the workers to end their occupation, in a dawn raid on the Thomas Cook premises on Grafton Street on Monday, 150 gardaí cordoned off the street, smashed their way into the premises and arrested everyone inside - 25 people, including two pregnant women.
The protesters were taken to the Bridewell and held in custody until their appearance at the High Court later on Tuesday. With their stand and resultant publicity winning widespread public sympathy – even the High Court judge said he understood their anger and stress! – and having forced Thomas Cook to review its position, they gave an undertaking not to reoccupy the premises.
Confirming that it was opening talks with staff trade unions, Thomas Cook branded the workers' action as "outrageous"!
The public support for the occupation shows just whose behaviour people thought was really outrageous.

Sacked Thomas Cook worker Avril Boyne (26) actually gave birth to a baby girl in the Coombe Women's Hospital while she was under arrest and on her way in Garda custody to the Bridewell and the High Court.
The gardaí were the first to congratulate the new mum in their custody. Avril's partner, Ian Mahon, was already under arrest but he was allowed out of his cell to see his new-born child. Mum Avril, Ian and 5lb 14oz Chelsea are now back at home and we all wish them well.