30 July 2009 Edition
Liverpool remembers Jim Larkin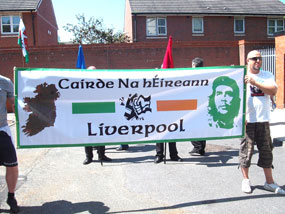 SEVERAL HUNDRED marchers took to the streets of Liverpool last Saturday to commemorate the memory of Jim Larkin, trade unionist and socialist, who was born in Liverpool in 1876.
Organised by the James Larkin Society, the march included the Liverpool Irish Patriots Republican Flute Band and the Volunteer Seán McIlvenna RFB from Glasgow, and featured banners from local trade union branches and the Liverpool-based Cairde na hÉireann group.
The parade passed through the city centre, meeting with an enthusiastic welcome from passers-by and Saturday afternoon shoppers (and some curious tourists!).
Following the parade, the assembled crowd were addressed by a series of speakers. These included Adam Phillips from Balchder Cymru (Pride of Wales) and Paul O'Connor, a full-time official with the PCS (Public and Commercial Services) union.
The final speaker was Seán Oliver, Sinn Féin organiser for England, Scotland and Wales.
After thanking the Larkin Society for their invite, Seán spoke of Larkin's lifetime of trade union activism which took him to Belfast, Dublin, Cork and Waterford as well as Scotland and the USA. In Ireland, he is best remembered for his role in the 1913 Dublin Lock-Out, and it is planned to commemorate this major event not just in Ireland but in places like Liverpool.
THE CAUSE OF LABOUR
It was Larkin's contemporary, James Connolly, who remarked that "the cause of Ireland is the cause of Labour", and, as Seán pointed out:
"That link is still important today. The recent debate on Irish unity launched by Gerry Adams in London and Pat Doherty in Liverpool must involve trade unions and organised labour in this country looking at the issue of the relationship between Britain and Ireland.
"The battles for workers' rights are still high on the political agenda for Irish republicans. Recently we have seen the electricians being forced to strike in the 26 Counties, and in Belfast we had the scandalous situation at the Visteon plant, where Sinn Féin stood shoulder to shoulder with the workers and helped them achieve a better deal from Ford and Visteon.
"In October, the referendum on the Lisbon Treaty will be re-run in the 26 Counties, and the issue of workers' rights is one which Sinn Féin will be raising in the renewed debate about Lisbon and the political direction of Europe."
NO TO RACISM
In line with Larkin's philosophy, the march and rally also delivered a clear 'no' to racism and fascism.
As Seán Oliver stated:
"Progressive political parties and organisations need to  stand up and be counted, whether it is in opposition to the BNP here in England or to the elements who attacked the Roma people in the loyalist Village area of Belfast recently."
Finally, Seán reminded the crowd that 2010 is to be the European Year for Combating Poverty and Social Exclusion.
"These are the values which Larkin and his colleagues held dear and now, nearly a century later, we must ensure that these still feature in the plans of those in power across Europe."