30 July 2009 Edition
Harney must reverse decision to close Sligo Cancer Services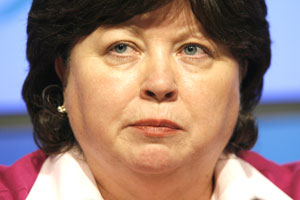 Sinn Féin Donegal Senator Pearse Doherty has called on Health Minster Mary Harney to reverse her decision to close all cancer care services at Sligo General Hospital from August 6th. Senator Doherty was speaking at a demonstration held by the Save Our Cancer Services North West Group where hundreds of Donegal women symbolically tied bras onto the railings of the Taoiseach's office.
The Donegal Senator said:
"Mary Harney has failed the people of this state time and time again. Her failed PD ideology of privatisation and the outsourcing of the Department of Health's responsibilities to the HSE have cost lives. It's that simple. It is time for the Minister to resign from her post and if she refuses to do so Brian Cowen needs to listen to the people, step up and fire her.
"Sinn Féin supports the Centre of Excellence concept, but only on the condition that such centres are located in a manner that is regionally balanced. Cancer treatment is aggressive and expecting patients to travel a round trip of nearly 300 miles to receive treatment is barbaric. And it defies the 'equality of access' legislation in the European Social Charter. And that is exactly the kind of travel cancer patients from Donegal will be faced with if the government proceeds with its decision to close cancer care services in Sligo General Hospital.
"But the blame for this barbaric decision does not rest solely with Mary Harney. Donegal TD and Tánaiste Mary Coughlan also sits at the cabinet table. Former Donegal TD and Minister of State Pat the Cope Gallagher also had significant influence in government decision making. Despite his promise to continue representing the best interests of the people of Donegal, North West MEP Pat the Cope is noticeable for his silence on the closure of cancer services in Sligo, as is Minister Coughlan. All elected representatives for Donegal, Leitrim and Sligo need to unite in opposition and force the hand of this government to reverse its barbaric decision to close Sligo General Hospital's cancer care services."