30 July 2009 Edition
Reducing minimum wage is not an option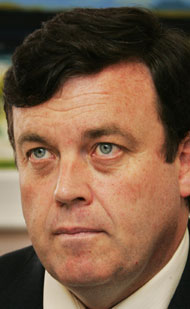 BY STEPHANIE LORD
CUTTING the minimum wage in the 26 Counties "is simply not an option", Sinn Féin Dublin TD Aengus Ó Snodaigh has said.
"The minimum wage has played an important role in keeping Ireland's lowest-paid workers out of the poverty trap.
"Finance Minister Brian Lenihan knows that the right to an annual wage of €18,000 has not adversely affected Ireland's competitiveness.
"The politics behind the demand of business representative groups for the minimum wage to be reduced is as old as history."
Deputy Ó Snodaigh said that IBEC and the Minister for Finance Brian Lenihan knew but would not admit that Ireland's competitiveness has been held back by decades of under-investment in critical infrastructure and services, an over-reliance on foreign direct investment, a failure to foster and development a widespread culture of innovation and bloated senior management pay in the private and public sectors.
He also said that wage restraint needs to happen from the top down, not the bottom up.
"Cutting the minimum wage would be a massively retrograde step and, far from addressing the shortfalls in Irish competitiveness, it would instead increase the numbers caught in the poverty net thus further burdening the public purse.
"Someone always had to pick up the tab and, naturally, representatives' groups like IBEC and individuals like Colm McCarthy fight to ensure that the most privileged and well-off in Irish society are protected. However, Government's role is to support and protect the interests of all Irish citizens equally."
Minister of State for Labour Affairs Dara Calleary has also claimed that reducing the minimum wage would contribute to "protecting employment" where employers are faced with "severe economic challenges".
The current minimum wage rules contain an "inability to pay" feature already but this is not available to certain sectors such as hotel and catering. Irish Congress of Trade Unions General Secretary David Begg has described suggestions of reducing of the minimum wage as "a toxic proposal".