30 July 2009 Edition
Sinn Féin - representing all the citizens of west Belfast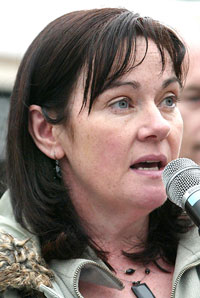 By Jennifer McCann MLA
IN a recent media attack on Gerry Adams, former loyalist leader Davy Adams accused the west Belfast MP of failing the unionist people of the constituency. Davy Adams said that "to the best of my knowledge, [Gerry Adams] has yet to provide a single job, or indeed lobby on their behalf for anything".
A few phone calls about Sinn Féin's constituency service would have enlightened a very unenlightened Davy Adams but then perhaps that would have taken away his reason for making his criticism in the first place.
The truth is that many working-class unionist areas in west Belfast and other places have been abandoned. With the exception of some church and community representatives, including women's groups and some very fine teachers, most unionist areas have been left to their own devices.
Sinn Féin has always sought to provide a constituency service for these areas despite the obvious difficulties. And in recent years this has moved up several gears.
INITIATIVES
Gerry Adams, as MP for west Belfast, along with our council and Assembly team, has advocated or spearheaded initiatives and interventions which have brought investment, jobs, policy change and social programmes to unionist working-class communities in the Shankill.
These include:–
The West Belfast & Shankill Task Force, which was first produced in 2002, reviewed in 2007, and incorporated within the Programme for Government of the existing power-sharing Executive;
Creation of an Employment Services Board made up of community, political and statutory representatives;
Job Assist Centres, outreaching to the long-term unemployed;
Flagship projects for west Belfast, including the Shankill, which have been pledged a total of £21m;
This includes a Department of Education sponsored programme for children and young people with up to £5m, creating up to 90 jobs, in west Belfast and the Shankill;
An Employers' Forum which has fostered employment initiatives, including pioneering job access programmes among local health employers at the Royal and Mater hospitals;
An Enterprise Council for local businesses from west Belfast and Greater Shankill;
A regional suicide prevention strategy with ring-fenced funding skewed towards those services and projects supporting those at greatest risk, including Shankill projects;
Additional funding for youth projects to sustain services and the tenure of youth workers in west Belfast and Shankill;
Working with educationalists and schools in the Shankill to formulate policy change and to support investment in new school builds;
Defending the rights of workers against global corporations, including those who were employed at Visteon, and who came from throughout west Belfast and beyond, including working-class unionist communities in Shankill, Suffolk and Lisburn.
In addition, and this is not unique to west Belfast, increasing numbers of people from unionist areas are availing of our advice service.
There is also ongoing work on behalf of citizens in a number of smaller unionist neighbourhoods.
Why do we do this? Because we believe that it is our responsibility to work on behalf of all the people of west Belfast, not just the republican voters. We do our best to represent everyone and to act as advocates for people in trouble, particularly working-class people.
INCLUSIVE
We are also very mindful as we move ahead with our campaign to achieve Irish reunification that unionists in places like west Belfast, where they are in a minority, will judge how they might be treated in a united Ireland by how they are treated in these constituencies.
If we are serious about achieving a united Ireland and of persuading unionists, or a section of unionism, that this is the best way forward, then we must demonstrate now our determination to make that new Ireland inclusive and one in which they can feel at home and comfortable in.