30 July 2009 Edition
Holland Case highlights Serious Flaws with the PPS and Judiciary - Adams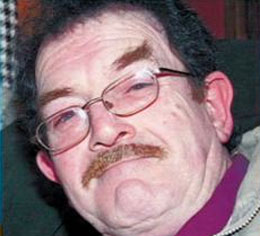 SINN FÉIN West Belfast MP Gerry Adams will meet the family of murdered West Belfast shopkeeper Harry Holland next week to discuss and agree what representations can be made to the British Attorney General in relation to the case.
Harry Holland died after he was stabbed in the head with a screwdriver near his home in September 2007.
Earlier this month, 18-year-old Stephen McKee from Ballymurphy Road was sentenced to 12 years for the murder of the popular 65-year-old.
Patrick Crossan from Willowbank Gardens in west Belfast was sentenced to four years for attempted affray and having an offensive weapon, and a 17-year-old girl was placed on a probation order for two years. She had admitted charges of affray and common assault.
The Public Prosecution Service (PPS) in the North has referred the convictions to the British Atttorney general.
Commenting on this decision Gerry Adams today said:
"Harry Holland was murdered in September 2007. He was a gifted, generous and loving family man and his killing shocked the west Belfast community. There is widespread community support for his family who since then have demonstrated enormous courage in dealing with the subsequent trial.
"The family and community were outraged at the deal done to reduce the charges in the case of two of those involved and of the leniency of the subsequent sentences.
"Like the family I am deeply dissatisfied with the way this case has been handled by the Public Prosecution Service and by the judiciary.
"The decision by the PPS and what representations we make to the British Attorney General will be discussed at our meeting next week.
"The family's campaign for justice has placed a focus on the criminal justice system and in particular the serious deficiencies within the Public Prosecution Service.
"The PPS needs to change. There needs to be a root and branch examination of how prosecution cases are conducted.
"We must ensure that we attain a prosecution service which is truly independent, accountable and which has the confidence of all sections of the community."