30 July 2009 Edition
Green economy key to tackling climate change and economic crisis - Bairbe de Brún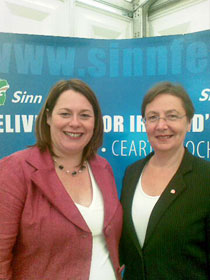 FOLLOWING her re-election to the European Parliament in the June elections, in which she topped the poll in the Six Counties, Sinn Fein's Bairbre de Brún spoke to An Phoblacht this week about her priorities in Europe, her role on the parliamentary committees, the upcoming United Nations climate change summit, and how the EU institutions can be used to advance progressive change.
Bairbre de Brún has said she aims to build on the work done by Sinn Féin in the last EU parliamentary session around jobs and the economy, climate change, rural development and farm families, the Irish language and public services.
"In light of the current economic crisis, I will be pressing for the EU to rethink its economic strategy in order to place the interests of ordinary people at the heart of its decision-making, instead of just big business, and to value full employment, social justice and environmental sustainability," she said.
De Brún has been appointed to the EU's Environment, Public Health and Food Safety (ENVI) Committee, which will play a vital role in formulating the EU's position in the lead-up to the crucial UN summit on climate change in Copenhagen in December.
She has been assigned to the Petitions Committee in the new parliamentary session - to which individuals and groups can apply if they feel public bodies are acting contrary to EU law. The Sinn Féin MEP has also been appointed as a substitute member of the Regional Development (REGI) Committee REGI, which deals with regional and cross-border cooperation and helps regions develop infrastructure and business.
As well as these assignments, de Brún said she is also working in alliances with other progressive MEPs on a wide range of issues beyond the work of the specific committees she's appointed to.
2010 will be EU Year for Combating Poverty and Social Exclusion. It is important that this is reflected in the policies we bring forward.

Positive response
Speaking to An Phoblacht this week, de Brún said: "I'm delighted to have been re-elected to the European Parliament, particularly by the number and spread of the people who voted for Sinn Féin. I think it is a direct result of the work that we have done over the past five years in the European Parliament and more broadly an endorsement of Sinn Féin's vision for change.
"It was clear that this was not just a vote for me but for Sinn Féin as a party. We have a great team of talented and committed activists right across Ireland. We have strong connections with the people and with local communities and we have a vision of building a better society for all and transforming politics on the island of Ireland."
De Brún said the atmosphere during the election campaign was "very positive".
"It was clear as I was travelling throughout the Six Counties that the party activists were highly motivated and that there was an upbeat and confident mood. We received a lot of very positive feedback on the doorsteps," she said.
"It was also interesting that people were discussing European issues as well as national issues on the doorsteps. I think this is a direct response to the economic crisis.
"No-one would pretend that Europe has all the answers to current economic difficulties but there is definitely a very important role for EU bodies to play in the economic recovery," she said.

Copenhagen
The incoming European Parliament and the EU's other institutions will be charged with responding effectively to the twin crises facing the world - climate change and the global economic meltdown.
More and more people are beginning to realise that these crises share the same solution: a publicly directed global effort to cut carbon emissions by building a green economy based on renewable energy.
Discussing her priorities in the new parliamentary session, de Brún said: "The emphasis of the work I'll be doing in the European Parliament over the next period will be on tackling climate change and developing the green economy.
"The way forward economically is clean and green investment. This will include areas such as renewable energy, energy efficiency and sustainable transport."
The countdown has begun to the crucial Copenhagen UN climate summit in December, which is aimed at creating a new global, binding agreement on carbon emissions reductions to replace the Kyoto Protocol after 2012.  
"Part of the ENVI Committee's work, is in  helping to formulate the European Parliament's position in the international negotiations as we approach the UN climate change summit in Copenhagen in December," de Brún explained.
The EU has a vital role to play at the Copenhagen summit in ensuring that such an agreement will be truly global; that it will base emission reduction targets on science; and that it will propose a strategy to achieve these targets that is effective, monitored and enforced.
"The importance of the outcome of this summit, which will shape the international response to global warming for many years to come, cannot be underestimated. It's vital that the EU puts forward a position that is strong enough to actually tackle the global challenge of climate change. It must also be fair and just in terms of what is being asked of developing countries," de Brún said.
"I will push for a progressive mandate to be given to EU negotiators in the UN climate talks and will continue to promote opportunities in renewable energy and energy efficiency as a way of boosting the local economy and tackling climate change and fuel poverty."
Some EU member states are using the recession to renege on their pledges under Kyoto of aid to developing countries for their adaptation to the deadly effects of climate change and to help limit their emissions as their economies grow. This is causing a major political rift between rich and poor states in the UN and threatens to derail a global agreement being reached at Copenhagen.
For example, as of May, while rich countries have so far pledged US$18 billion in adaptation aid, less than $1 billion has been delivered. According to the UN, $50 to $70 billion a year needs to be invested immediately to help the poor countries adapt to extreme floods and droughts.
"There are several big questions to be decided upon at this summit - not only what concrete steps each industrialised and developing country will take to reduce emissions, but also what finance will be provided to help developing countries tackle climate change," de Brún said.
"There is also the question of how this finance will be managed - industrialised countries are pushing for it to be managed by existing channels but developing countries are calling for a new mechanism which they have more input into and say in."

Green economy strategy
De Brún stressed that, while the Copenhagen summit was crucial internationally, it's also vital to implement a green economy strategy in the Six Counties and across Ireland.
"Three days after the election vote count I was in the Assembly talking to the environment committee about climate change," she said.
"We need to make investment in renewable technology, energy efficiency and public transport immediate priorities.
"The Assembly and Executive need an overall strategy for tackling climate change, something which has been noticeably lacking. The Assembly needs to set targets for emissions reduction and formulate a concrete plan as to how each department will contribute towards achieving those targets.
"The best way to do this is through a Climate Change Bill which can put these targets into law. Sinn  Féin believes that the Executive should aim to reduce carbon emissions in the North by at least 30 per cent on 1990 levels by 2030, and that there should be an annual rate of emissions reduction of at least 3 per cent each year.
"One very obvious starting point is immediate investment into home insulation and other energy efficiency measures which, as well as helping tackle climate change, would also reduce fuel poverty and help maintain and create jobs in the construction sector."

EU resources and workings
Discussing Ireland's relationship with the EU bodies, de Brun said: "There can be a tendency to feel that the EU is somewhat remote but it is actually extremely relevant to our lives. The vast majority of the legislation which affects our daily lives originates in the EU institutions.
"We also draw down European funding every year for a whole range of projects and industries. I want to ensure that we maximise the resources available through Europe by promoting the Executive's Action Plan on the EU Task Force and unlocking resources, for example, to improve our skills base. I also want to build on the opportunities arising from the European Economic Recovery Plan, particularly in relation to greening the economy.
"It's very important that we bring the workings of the EU closer to home and engage with communities, with a variety of local government bodies, trade unions, rural and farming groups, and businesses.
"We also need to more consistently link the work we do in the Assembly and Leinster House with the European Parliament," she said.
"This new session provides an opportunity to develop our relationship locally with the EU bodies. Our ministers from the Six Counties have been travelling more regularly to Brussels to discuss their department's issues with EU counterparts and vice versa.
"A good example of that is the recent visit to the North's Balmoral Show of the European  Commissioner for Agriculture Mariann Fischer Boel at the invitation of our Agriculture Minister Michelle Gildernew."
On EU funding, de Brun said: "We are now at the state where there is less EU funding being automatically assigned to the North, largely because the North has become more self-sustaining and prosperous, and also because the special EU's Peace programmes are coming to an end. However, there are opportunities available to engage with the EU to help local development - if we go in and bid for them.
"So it's important that the Assembly committees and departments now engage more actively with the European institutions and that we build on the opportunity provided by the EU Task Force. There is now a designated person in every section of the European Commission that can work with their counterparts in each department of the Executive and this can help us make sure that we make the most of the EU's programmes."
The MEP also said she was particularly pleased to have been appointed to the Petitions Committee in this session, a position she said will allow her to "assist citizens in bringing their concerns directly to European bodies that can initiate direct investigations to try to resolve those concerns".
The committee can investigate and respond to petitions submitted by EU citizens and consult the authorities at national and local level about ways in which issues raised by petitioners can be resolved.
For example, during its last visit to Ireland the committee investigated a number of petitions including the Dublin Bay incinerator at Poolbeg; the M3 motorway project at Tara and Lismullen; issues related to drinking water in Galway and Kilkenny; and respect for fundamental rights and problems of the Irish Mental Health Act.
"There is currently a petition with the committee in relation to the proposed super dumps in the Ringsend area in east Derry," de Brun explained.
"I was happy earlier this year to work with Sinn Féin Councillor Billy Leonard around the petition of concern submitted from Ringsend in opposition to the development of the super dumps near Coleraine. This petition will now come before the committee in the autumn."

Irish unity
De Brun outlined the importance of the Regional Development Committee in practically advancing Irish cross-border integration.
"I'm an Irish republican - I want to see a united Ireland because it is the national right of the Irish people to live free from interference by Britain," she said.
"And it also makes sense. More and more people are beginning to accept the benefits of the all-Ireland economy, an all-Ireland energy market, resource sharing and the harmonisation of public services.
"I want to use my presence in the European Parliament to advance Irish reunification. In particular, through my role as a substitute member of the Regional Development Committee, I can help promote all-Ireland working, planning and implementation in a very concrete way.
"In the last term I was able to build on that work and continue to break down the barriers that undermine the development of the region."
"I will also continue to fight for our farming industry and farm families in the EU. Decisions taken at an EU level have a huge impact on the agricultural industry and rural development. We are lucky to have such an active champion for local rural constituents in Michelle Gildernew," de Brún said.
"I look forward to working with Michelle, as well as farmers' unions and rural development groups in the coming period. Of particular importance will be the review of Common Agricultural Policy, the issues of Less Favoured Areas and overcoming the present crisis in the dairy industry. I will work to see that unspent EU funds can be directed at struggling sectors of our farming industry. I will work to ensure our farmers can benefit from the increased funds the EU has earmarked for renewable energy and for rural broadband I will continue to highlight traceability concerns over Brazilian beef, to oppose unnecessary bureaucracy and red tape, and to oppose shady deals at the WTO".
As an Irish speaking MEP, Bairbre de Brún will continue to address the European Parliament in Irish and to promote multilingualism and Irish language rights at European level.
• POLL TOPPER: Bairbre de Brún following her re-election to the European Parliament in the June elections