30 July 2009 Edition
National hunger strike commemoration 2009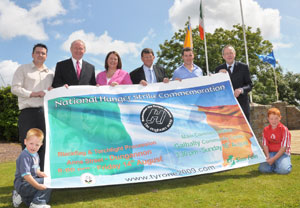 Tyrone prepares to remember the 1981 Hunger Strike
TYRONE MPs Pat Doherty, Michelle Gildernew and Martin McGuinness on Monday officially launched the programme of events for this year's 28th Anniversary National Hunger Strike Commemoration.
This is the first time that a commemoration of this type has been held in Tyrone and only the second time it has been held outside Belfast. Derry City hosted the event last year which was a great success and the organisers of this year's commemoration have high expectations also.
This year, local republicans will oversee the running of this event and have planned a series of events across the county, culminating with the main commemoration on Sunday 16 August in Galbally, home of Hunger Striker Martin Hurson. 
The programme of events was launched at the Cappagh Monument on Monday 27 July by the three MPs for Tyrone, Pat Doherty, Michelle Gildernew and Martin McGuinness.
The organising committee said:
"The relevance of the events leading up to and during 1981 is something that is as important today as it was then.
"Today we accept terms such as democracy, civil liberty and individual freedoms as fundamental principles of a free society.  By taking on the British state, the republicans that were incarcerated at that time believed and still believe that they were making a stand for these principles against a government that was happy to deny them.  

"Britain's attempt to criminalise this stand led to a stark choice to be made by those on protest: either accept oppression or fight for freedom.  The direction that they chose, although still very painful, is a true testament to the resilience and resolve of these brave men and it is a true honour to commemorate their efforts in County Tyrone this year."
Sinn Féin MLA Francie Molloy, who was the Director of Elections for Bobby Sands when he won the Fermanagh/South Tyrone seat, said:
'The Hunger Strike was a major turning point for Irish politics.  Their determination and commitment at that time, based on the principles of the 1916 Proclamation has been a watershed in advancing the cause of Irish independence and freedom.
"There are still many attempts to divide republicans on the sacrifices made by the Hunger Strikers but I would like to commend the commitment and dedication of the Hurson family and indeed all the families along with the people of Galbally for keeping the memory of Martin and his fellow Hunger Strikers alive today."
The main commemoration will commence at 3.30pm on Sunday 16 August at Galbally Chapel. Other events leading up to this will be published in due course.