16 July 2009 Edition
Community concerns over UPRG statement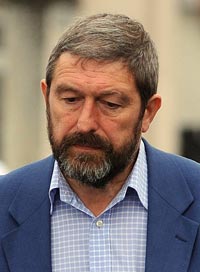 COLERAINE Sinn Féin Cllr Billy Leonard has said "there will be even greater community concerns and tensions" in the Coleraine area because of a statement by the UDA-linked Ulster Political Research Group (UPRG) which claimed that they were withdrawing their support for the police and political institutions.
The group claimed it had taken the decision after consulting with 'grassroots loyalists' in the area.
In the statement, the UPRG said the decision came after "the demonisation of loyalism in the region". It also claimed the PSNI operates a "green agenda throughout the north-west".
Speaking last Thursday, 9 July, Billy Leonard said:
"Republicans, nationalists and even some unionists have always believed that loyalists in Coleraine ran their semi-independent little empire. Therefore, in one way, there won't be any surprise at the statement. However, there will be great community concern as the implications of their approach are thought through and perhaps witnessed as tensions around Kevin McDaid's murder and the marches in the area continue.
"It has been claimed in court that the UDA was involved in Kevin's murder. How then can the UPRG blame everyone else in their statement as if they were the injured party? How can they make outlandish accusations when the dogs in the street know what happened and what has happened in this area over many years?
"If they were even concerned about all drug dealers in the area and how they feed off each other and all cases of intimidation that at least would be a small step. It is now definitely time for unionist politicians to play their part. They have been semi-detached on many issues. They cannot allow the UDA/UPRG to dictate the agenda around this area."
TENSIONS IN THE UDA
Meanwhile, Sinn Féin Assembly member Martina Anderson branded the UPRG statement as "a pathetic whinge on behalf of a discredited criminal gang".
"It has been well-known for some time that there are ongoing tensions within the UDA. This statement certainly confirms that. However, the vast majority of people, myself included, were completely unaware that the UDA, who are engaged in drug dealing as well as racist and sectarian attacks, were ever supporters of either the PSNI or the political institutions. In that context, their rather grand announcement of a withdrawal of support will have little real impact.
"In many ways, this statement represents a significant challenge for unionist political leaders. This criminal gang is very clear that it has no intention of going anywhere. Their defence of the murder of Kevin McDaid is telling. I have to say this statement is little more than a pathetic whinge on behalf of a discredited criminal gang."